Overview
Aortic valve stenosis (AVS) is the functional narrowing of the orifice of the aortic valve and causes obstruction to blood flow from the left ventricle (LV) to the systemic circulation.
The image below shows the left ventricular outflow tract and aortic valve.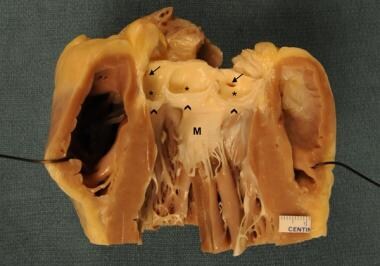 Longitudinally opened, left side of a heart showing the left ventricular outflow tract and the aortic valve. The aortic valve cusps are soft, pliable, and translucent (arrowheads). The sinuses of Valsalva (asterisks), the 2 coronary ostia, and the sinotubular junctions (arrows) are seen. M = anterior mitral leaflet, ventricular aspect.
Aortic valve stenosis is the most common type of valvular heart disease in the Western world. The largest contribution to this disease arises from calcific aortic valve stenosis, which affects 2-3% of the North-American population aged 65 years and older.
With the advancing age of the Western population, the number of affected individuals is only expected to rise. Although postinflammatory or rheumatic aortic valve stenosis is now a rarity in the Western world, it continues to be the most common cause of aortic valve stenosis worldwide.

See also Aortic Stenosis, Pediatric Valvar Aortic Stenosis, Pediatric Rheumatic Heart Disease, and Pathology of Rheumatic Heart Disease.