Overview
A comprehensive knowledge of laser systems and nonlaser treatment modalities, including light, radiofrequency, and ultrasonic systems; details and treatment parameters; appropriate patient selection; preoperative and postoperative care; and application of new technologies, can produce aesthetic results that are satisfactory to both the patient and the surgeon. Before any intervention, a thorough facial analysis must be undertaken in order to promulgate an appropriate treatment plan. The term resurfacing historically referred to ablative procedures of the epidermis of the skin. This can also include the anterior-most dermis referred to as the papillary dermis. See the images below.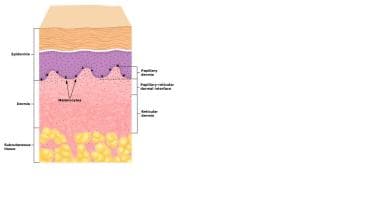 Epidermis and dermis. Courtesy of Primary Care Dermatology Society (PCDS) (www.pcds.org.uk).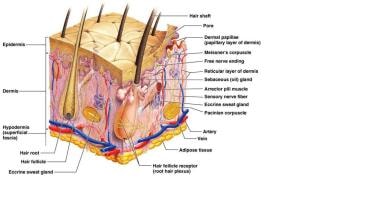 Detailed diagram of the skin. Courtesy of Wikispaces (https://showmesomeskin.wikispaces.com/Dermis).
The term resurfacing was most often used in conjunction with use of the carbon dioxide laser, then the erbium: yttrium-aluminum-garnet (Er:YAG) laser, and, subsequently, fractionated lasers.
Technically, chemical peels, dermabrasion, and, to a lesser extent, microdermabrasion, among other treatments, could also be considered resurfacing. Current terminology encompassing resurfacing not only includes ablative, but also fractional, nonablative, and sublative, which further stratify modalities of facial resurfacing.