Overview
Ureteroneocystostomy (UNC) refers to reimplantation of the ureter into the bladder. In the adult population, ureteroneocystostomy is primarily used for disease or trauma involving the lower third portion of the ureter that results in obstruction or fistula. In children, ureteroneocystostomy it is commonly used for surgical treatment of vesicoureteral reflux (VUR).

Key considerations
Generally, treatment for ureteral injury, stricture, and obstruction depends on the length of the defect, location, etiology, and time of diagnosis.
Ureteroneocystostomy is the procedure of choice to correct distal ureteral injuries in close proximity to the bladder that measure 3-5 cm. These injuries differ from more proximal injuries in that they are frequently associated with disruption of the blood supply from the iliac vessels and are thus best repaired with a ureteroneocystostomy.
Modifications, such as a psoas hitch (tacking the posterior bladder wall to the psoas muscle) and a Boari flap (tubularization of a flap of bladder to extend from the bladder to the ureteral orifice), allow for correction of ureteral defects that are longer than 5 cm.

Principles for obtaining successful ureteroneocystostomy outcomes include lack of tension, debridement and spatulation of the ureter, and postoperative drainage.
Open and minimally invasive laparoscopic approaches to ureteroneocystostomy have been described.

Indications
Injury, stricture, or obstruction of the distal 3-4 cm of the ureter is an indication for ureteroneocystostomy. More extensive loss of the ureter can be bridged with a vesico-psoas hitch or Boari bladder flap. Approximately one third of traumatic injuries and most iatrogenic injuries during pelvic procedures occur in the distal ureter.
Other indications for ureteroneocystostomy include distal ureteral cancers that cannot be removed endoscopically, pelvic malignancies involving the ureter, and renal transplantation and complications arising from transplanted kidneys.

Indications for psoas hitch
The psoas hitch is a useful technique for bridging a defect involving the lower third of the ureter. Indications include distal ureteral injury, ureteral fistulae secondary to pelvic surgery, segmental resection of a distal ureteral tumor, and failed ureteroneocystostomy.

Indications for Boari flap
Boari flap is a useful adjunct when the diseased segment of ureter is too long or ureteral mobility is too limited to perform a primary ureteroureterostomy. Boari flaps can be created to bridge a 10- to 15-cm defect. If needed, spiral bladder flaps can be constructed to reach the renal pelvis in some circumstances.

Indications in the pediatric population
In the pediatric population, VUR is the most common indication for ureteral reimplantation. However, ureteral reimplantation with or without ureteral tapering is also performed for obstructive megaureters.
Contraindications
Significant bladder pathology associated with high intravesical pressures and poor compliance (eg, neuropathic bladder) is a contraindication to ureteroneocystostomy. Individuals with dysfunctional voiding are at an increased risk for complications, including persistent VUR and obstruction. Performing ureteroneocystostomy in an irradiated bladder is also a concern. Ureteroneocystostomy is not recommended in patients with a history of bladder cancer.
The Politano-Leadbetter ureteral reimplantation is contraindicated after puberty or in patients with megaureters.

Contraindications to psoas hitch and bladder flap
Contraindications to psoas hitch include a small contracted bladder with limited mobilization. In addition, ureteral defects proximal to the pelvic brim usually require more than a simple psoas hitch alone.
Small bladder capacity is likely associated with difficult or inadequate Boari flap creation, warranting considerations of alternative methods. Also, if bladder outlet obstruction, small capacity/high pressure, or neurogenic bladder is possible, urodynamic studies should precede the operation to determine detrusor capacity and compliance. Any existing bladder outlet obstruction or neurogenic dysfunction needs to be addressed preoperatively.
Success rates
The success rate of ureteral reimplantation with a psoas hitch exceeds 85% in both adults and children.

In experienced hands, the success rate of ureteroneocystostomy in patients with low-grade primary VUR approaches 100%.

Nerve-sparing robotic extravesical ureteral reimplantation is reported to yield a success rate of 97.6% in the pediatric population.

Laparoscopic ureteral reimplantation was associated with a success rate of 95.8% in adults undergoing various procedures including psoas hitch, psoas hitch plus Boari flap, and extravesical ureteral reimplantation.

Although earlier studies of transvesicoscopic ureteral reimplantation demonstrated lower success rates (62%-79%)
compared with open techniques, later studies have demonstrated more comparable success rates, ranging from 92%-96%.

Relevant Anatomy
The ureters are paired muscular ducts with narrow lumina that carry urine from the kidneys to the bladder. The ureter is roughly 25-30 cm long in adults and courses down the retroperitoneum in an S curve. At the proximal end of the ureter is the renal pelvis; at the distal end is the bladder. The ureter begins at the level of the renal artery and vein posterior to these structures. This ureteropelvic junction usually coincides with the second lumbar vertebra on the left, with the right being marginally lower. The image below depicts the anatomy of the ureters.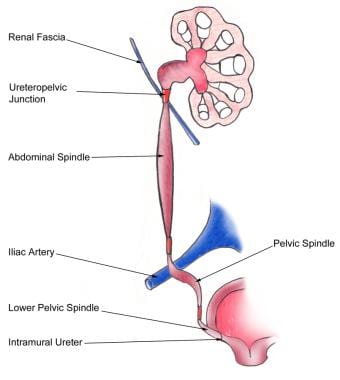 Anatomy of the ureter.
For more information about the relevant anatomy, see Ureter Anatomy. See also Bladder Anatomy, Female Urinary Organ Anatomy, and Male Urinary Organ Anatomy.