Definition
In the thoracic aorta, a diameter of 3 cm or greater is generally considered aneurysmal, although the average size of surgically corrected aneurysms is over 5cm. Thoracic aortic aneurysms (TAAs) can involve the aortic root, ascending aorta, arch, descending aorta, or a combination of these locations. The combination of aortic root dilatation and ascending aneurysm is termed "annuloaortic ectasia." (Anatomically and radiologically, an aneurysm is defined as a dilatation at least 50% above the normal diameter of an artery.) (See the images below.)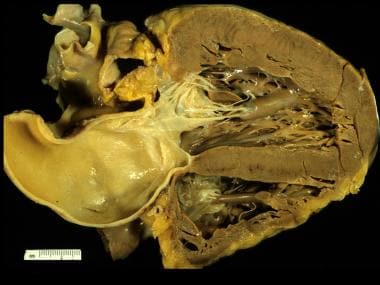 Coronal section with concentric left ventricular hypertrophy (left ventricular free wall = 18mm). A proximal aneurysm of the aorta is seen (5 x 4 cm), with focal rupture and hemopericardium (not shown). The aortic valve (not shown) revealed minimal root dilatation. Histologic sections showed marked medial degeneration.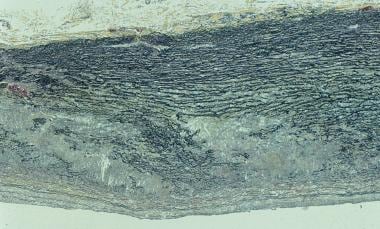 Thoracic aortic aneurysm.
Aortic dissections are frequently superimposed on noninflammatory TAAs; these aneurysms are often designated as "dissecting aneurysms." However, aortic dissections may occur with medial degeneration in the absence of preexisting aneurysm.
Pseudoaneurysm denotes a ruptured aortic wall with healing of the extravasated blood and formation of the aneurysm wall by fibrous tissue.