Overview
The porcelain laminate veneer (PLV) has gained significant notoriety throughout popular culture. The use of this treatment modality has elicited a discussion of its appropriateness and ethical usage.
Currently, there are no universally accepted guidelines as to the suitability of this treatment modality.
PLVs are routinely used in the correction of malposition and minor dental diastemas (see images below). In addition, malformations, minor chips, and discolorations not responsive to chemical bleaching are being remedied via the application of PLVs.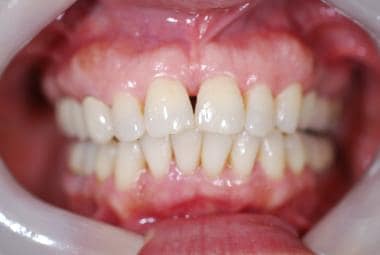 Preoperative view of a diastema.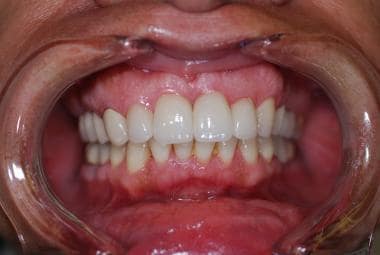 Postoperative view of a diastema closure.
Successful implementation of PLVs requires meticulous planning, as well as a clear understanding of the patient's expectations. With routine care and good oral hygiene, PLVs can be a conservative and ideal treatment option.
Two methods are currently being used to manufacture dental veneers—direct and indirect techniques. The direct method involves the direct application of composite resin on the tooth surface without laboratory fabrication. In most cases, the direct technique does not require the temporization of the dentition and may be completed in a single dental visit. The indirect method utilizes a dental laboratory for the manufacturing of the veneers. The indirect technique requires that an impression be recorded, which is an additional step. With the advent of computer-aided design and computer-aided manufacturing (CAD-CAM) technology, it is now possible to complete an indirect restorative procedure in a single dental visit.
Treatment via the direct or indirect protocol may or may not require the reduction of natural tooth structures.