Amid growing criticism of health insurers' onerous prior authorization practices, lawmakers in 30 states have introduced bills this year that aim to rein in insurer gatekeeping and improve patient care.
"This is something that goes on in every doctor's office every day; the frustrations, the delays, and the use of office staff time are just unbelievable," said Steven Orland, MD, a board-certified urologist and president of the Medical Society of New Jersey.
The bills, which cover private health plans and insurers that states regulate, may provide some relief for physicians as federal efforts to streamline prior authorization for some Medicare patients have lagged.
Last year, Congress failed to pass the Improving Seniors' Timely Access to Care Act of 2021, despite 326 co-sponsors. The bill would have compelled insurers covering Medicare Advantage enrollees to speed up prior authorizations, make the process more transparent, and remove obstacles such as requiring fax machine submissions.
Last month, however, the Centers for Medicare & Medicaid Services issued a final rule that will improve some aspects of prior authorizations in Medicare Advantage insurance plans and ensure that enrollees have the same access to necessary care as traditional Medicare enrollees.
The insurance industry has long defended prior authorization requirements and opposed legislation that would limit them.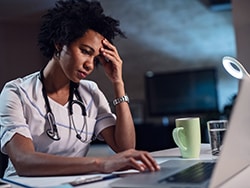 America's Health Insurance Plans (AHIP) and the Blue Cross Blue Shield Association said in a 2019 letter to a congressional committee when the federal legislation was first introduced, "Prior authorizations enforce best practices and guidelines for care management and help physicians identify and avoid care techniques that would harm patient outcomes, such as designating prescriptions that could feed into an opioid addiction." AHIP didn't respond to Medscape's repeated requests for comment.
But some major insurers now appear willing to compromise and voluntarily reduce the volume of prior authorizations they require. Days before the federal final rule was released, three major insurers — United HealthCare, Cigna and Aetna CVS Health — announced they plan to drop some prior authorization requirements and automate processes.
United HealthCare said it will eliminate almost 20% of its prior authorizations for some nonurgent surgeries and procedures starting this summer. It also will create a national Gold Card program in 2024 for physicians who meet its eligibility requirements, which would eliminate prior authorization requirements for most procedures. Both initiatives will apply to commercial, Medicare Advantage and Medicaid businesses, said the insurer in a statement.
However, United HealthCare also announced that in June it will start requiring prior authorization for diagnostic (not screening) gastrointestinal endoscopies for its nearly 27 million privately insured patients, citing data it says shows potentially harmful overuse of scopes. Physician groups have publicly criticized the move, saying it could delay lifesaving treatment, and have asked the insurer to reconsider.
Cigna and Aetna also have moved to pare back prior authorization processes. Scott Josephs, national medical officer for Cigna, told Healthcare Dive that Cigna has removed prior authorization reviews from nearly 500 services since 2020.
An Aetna spokesperson told Healthcare Dive that the CVS-owned payer has implemented a gold card program and rolled back prior authorization requirements on cataract surgeries, video EEGs and home infusion for some drugs, according to Healthcare Dive.
Cigna has faced increased scrutiny from some state regulators since a ProPublica/The Capitol Forum article revealed in March that its doctors were denying claims without opening patients' files, contrary to what insurance laws and regulations require in many states.
Over a period of 2 months last year, Cigna doctors denied over 300,000 requests for payments using this method, spending an average of 1.2 seconds on each case, the investigation found. In a written response, Cigna said the reporting by ProPublica and The Capitol Forum was "biased and incomplete."
States Aim to Reduce Prior Authorization Volume
The American Medical Association said it has been tracking nearly 90 prior authorization reform bills in 30 states. More than a dozen bills are still being considered in this legislative session, including in Arkansas, California, New Jersey, North Carolina, Maryland, and Washington, DC.
"The groundswell of activity in the states reflects how big a problem this is," said an AMA legislative expert. "The issue used to be 'how can we automate and streamline processes'; now the issue is focused on reducing the volume of prior authorizations and the harm that can cause patients."
The state bills use different strategies to reduce excessive prior authorization requirements. Maryland's proposed bill, for example, would require just one prior authorization to stay on a prescription drug, if the insurer has previously approved the drug and the patient continues to successfully be treated by the drug.
Washington, DC and New Jersey have introduced comprehensive reform bills that include a "grace period" of 60 days, to ensure continuity of care when a patient switches health plans. They also would eliminate repeat authorizations for chronic and long-term conditions, set explicit timelines for insurers to respond to prior authorization requests and appeals, and require that practicing physicians review denials that are appealed.
Many state bills also would require insurers to be more transparent by posting information on their websites about which services and drugs require prior authorization and what their approval rates are for them, said AMA's legislative expert.
"There's a black hole of information that insurers have access to. We would really like to know how many prior authorization requests are denied, the time it takes to deny them, and the reasons for denial," said Josh Bengal, JD, the director of government relations for the Medical Society of New Jersey.
The legislation in New Jersey and other states face stiff opposition from the insurance lobby, especially state associations of health plans affiliated with AHIP. The California Association of Health Plans, for example, opposes a "gold card" bill (SB 598), introduced in February, that would allow a select group of high-performing doctors to skip prior authorizations for 1 year.
The CAHP states, "Californians deserve safe, high quality, high-value health care. Yet SB 598 will derail the progress we have made in our health care system by lowering the value and safety that Californians should expect from their health care providers," according to a fact-sheet.
The fact-sheet defines "low-value care" as medical services for which there is little to no benefit and poses potential physical or financial harm to patients, such as unnecessary CT scans or MRIs for uncomplicated conditions.
California is one of about a dozen states that have introduced gold card legislation this year. If enacted, they would join five states with gold card laws: West Virginia, Texas, Vermont, Michigan, and Louisiana.
How do Gold Cards Work?
Physicians who achieve a high approval rate of prior authorizations from insurers for 1 year are eligible to be exempted from obtaining prior authorizations the following year.
The approval rate is at least 90% for a certain number of eligible health services; but the number of prior authorizations required to qualify can range from 5 to 30, depending on the state law.
Gold card legislation typically also gives the treating physician the right to have an appeal of a prior authorization denial by a physician peer of the same or similar specialty.
California's bill would also apply to all covered health services, which is broader than what United HealthCare has proposed for its gold card exemption. The bill would also require a plan or insurer to annually monitor rates of prior authorization approval, modification, appeal, and denial, and to discontinue services, items, and supplies that are approved 95% of the time.
"These are important reforms that will help ensure that patients can receive the care they need, when they need it," said CMA president Donaldo Hernandez, MD.
However, it's not clear how many physicians will meet "gold card" status based on Texas' recent experience with its own "gold card" law.
The Texas Department of Insurance estimated that only 3.3% of licensed physicians in the state have met "gold card" status since the bill became law in 2021, said Zeke Silva, MD, an interventional radiologist who serves on the Council of Legislation for the Texas Medical Association.
He noted that the legislation has had a limited effect for several reasons. Commercial health plans only make up only about 20% of all health plans in Texas. Also, the final regulations didn't go into effect until last May and physicians are evaluated by health plans for "gold card" status every 6 months, said Silva.
In addition, physicians must have at least five prior authorizations approved for the same health service, which the law left up to the health plans to define, said Silva.
Now, the Texas Medical Association is lobbying for legislative improvements. "We want to reduce the number of eligible services that health plans require for prior authorizations and have more oversight of prior authorization denials by the Texas Department of Insurance and the Texas Medical Board," said Silva.
He's optimistic that if the bill becomes law, the number of physicians eligible for gold cards may increase.
Meanwhile, the AMA's legislative expert, who declined to be identified because of organization policy, acknowledged the possibility that some prior authorization bills will die in state legislatures this year.
"We remain hopeful but it's an uphill battle. The state medical associations face a lot of opposition from health plans who don't want to see these reforms become law."
Christine Lehmann, MA, is a senior editor and writer for Medscape Business of Medicine based in the Washington, DC area. She has been published in WebMD News, Psychiatric News, and The Washington Post. Contact Christine at clehmann@medscape or via Twitter @writing_health