A simple computer-based neurocognitive training program that emphasizes self-worth can extend the antidepressant effects of ketamine for up to 30 days in patients with treatment-resistant depression (TRD), new research suggests.
The double-blind, randomized clinical trial is the first to assess combining ketamine with a low-cost protective learning program, researchers note.
They add that the findings are an important step toward long-lasting depression treatment for millions of patients whose depression does not improve following first-line therapies.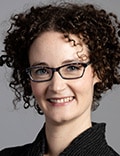 Dr Rebecca B. Price
"One of the biggest challenges in psychiatry and psychology is seeing evidence of longer-term benefits and longer-term compliance," lead investigator Rebecca B. Price, PhD, associate professor of psychiatry and psychology, University of Pittsburgh, Pennsylvania, told Medscape Medical News.
"Anything that can get somebody well quickly and keep them well for some length of time is really exciting — and a whole paradigm shift for how things have been done up to now," Price said.
The findings were published online September 21 in the American Journal of Psychiatry.
Promoting Self-Worth
About one-third of patients with depression remain treatment-resistant even after trying different medications at different doses and at different combinations, the investigators note.
Ketamine and esketamine, a nasal spray formulation of the drug, have been shown previously to improve symptoms in patients with TRD. While the benefits are evident within a few hours of treatment, the effects often wane after just a few weeks.
Ketamine and esketamine must be administered in a clinical setting and patients must be monitored for at least 2 hours after treatment. Repeat dosing is costly, both in time and expense, so clinical researchers have been studying ways to extend the drug's effects without additional treatments.
The new study combined ketamine treatment with a computer-based active automated self-association training (ASAT) program that the researchers developed. It uses positive words and imagery to promote positive self-image and self-worth.
The trial included 154 adults with treatment-resistant unipolar depression whose symptoms persisted after therapy with at least two medications. Participants received an IV infusion of ketamine 0.5 mg/kg plus active ASAT (n = 53), saline plus active ASAT (n = 51), or ketamine plus sham ASAT (n = 50).
The active program used words like "sweet," "loveable," and "worthy" that appeared on the screen interspersed with images of people smiling and the patient's own photo. Participants were also asked to complete certain mouse-tracking tasks during the session.
The sham ASAT was similar but included neutral words and images. ASAT and sham ASAT were delivered twice daily over 4 consecutive days for 20 minutes.
Clear Benefit
Results showed that ketamine rapidly and significantly reduced depression scores within 24 hours of treatment (group-by-time interaction: standardized beta [β], -1.30; 95% confidence interval [CI], -1.89 to -.70).
Depression scores in the ketamine-plus-ASAT group remained low and stable over a 30-day period compared with the saline-plus-ASAT group (β, -0.61; 95% CI, -0.95 to -.28).
Participants who received ketamine plus sham ASAT saw initial improvement in symptoms immediately following infusion, but depression symptoms returned after a few weeks.
While researchers hoped to see positive effects from ASAT, "I certainly did not expect to see something so clear to jump right out," Price said.
The investigators are now examining whether the computer program can be administered effectively remotely and whether its effects are equally beneficial following treatment with esketamine.
Greatest Unmet Need
Commenting on the findings for Medscape Medical News, Gerard Sanacora, MD, PhD, professor of psychiatry, and director, Yale Depression Research Program, Yale School of Medicine, New Haven, Connecticut, said that extending the effects of ketamine or esketamine without additional dosing is "probably the greatest unmet need in relation to treatments with ketamine and esketamine."
He added that there are large economic, time, and access burdens associated with the treatment of ketamine.
"Anything we can do to reduce the number of treatments needed or increase the sustainability or the duration of effect would be a tremendous benefit," said Sanacora, who was not involved with the research.
Adding an easily accessible, nonpharmacological therapeutic approach to ketamine treatment could be valuable, he said — but more research is needed.
"I'm not sure that this specific associated positive thinking is really the critical component. I think we still have some work to do there. But it does demonstrate that we can use ancillary or augmenting nonpharmacological treatments to extend the effect," Sanacora said.
Am J Psych. Published online September 21, 2022. Abstract
The study was funded by the National Institute of Mental Health and Clinical and Translational Science Institute at the University of Pittsburgh. Price is the named inventor on a University of Pittsburgh-owned provisional patent filing related to the combination intervention described in this report. Sanacora reports no relevant financial relationships.
Kelli Whitlock Burton is a reporter for Medscape Medical News covering psychiatry and neurology.
For more Medscape Psychiatry news, join us on Twitter and Facebook.