Drug overdose and alcohol-related deaths rose to record highs in 2020. In many states, rates have increased more than 20% since the start of the pandemic, according to a new report from the Commonwealth Fund.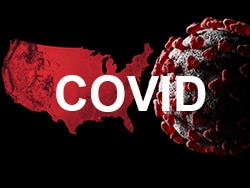 The document, "2022 Scorecard on State Health System Performance," was released today. Researchers aggregated 56 performance indicators and assessed the affordability and quality of care available in each state as well as the prevalence of high-risk behaviors, health disparities, and preventable deaths.
For the first time, the annual scorecard added seven COVID-specific metrics, such as state vaccination rates, hospital and intensive care unit (ICU) capacity, and excess mortality, to evaluate health systems' performance from the beginning of the pandemic through March 2022.
Overall, the states with the top healthcare systems were Hawaii, Massachusetts, and Connecticut; West Virginia, Oklahoma, and Mississippi ranked lowest.
"We are now entering the pandemic's third year, and I can hardly recall a time when the value of examining states' health systems has been more apparent," said David Blumenthal, MD, president of the Commonwealth Fund, during a briefing about the report. "As we have watched states take vastly different approaches to handling COVID, the very direct impact of different policy choices on people's health and well-being has been made crystal clear."
"Strong" Health Systems Had Better COVID Response
In general, states that have historically ranked highly on previous scorecards also performed well throughout the pandemic, according to the report, because they typically have "strong health systems [with] low uninsured rates, robust primary care capacity, and effective care management."
With regard to COVID-specific measures, Hawaii, Maine, and Vermont topped the list, and Kentucky, Oklahoma, and Alabama came in last.
Still, access to healthcare services plummeted in all states during the acute phase of the pandemic as exposed healthcare workers entered isolation and facilities directed their remaining staff and resources toward caring for critically ill COVID patients.
Between August 2020 and March 2022, says the report, 18 states endured 100 or more days of critical staffing shortages that affected at least 25% of their hospitals. South Carolina, New Mexico, and Rhode Island reported more than 400 days of critical shortages, and Alabama exceeded 500 days.
During that time, 16 states and the District of Columbia reported ICU capacity of 80% or more for at least 150 days, whereas Texas and Alabama spent 566 and 517 days at similar levels.
Additional scorecard findings include the following:
The pandemic disrupted access to care for non-COVID illnesses, driving premature deaths from treatable conditions such as diabetes, pregnancy, and heart disease to "unprecedented rates in 2020" and causing all states to report higher-than-expected all-cause mortality.

Preventable mortality increased most significantly among Black, Indigenous, and Latinx/Hispanic people, though deaths of White Americans are now accelerating.

Vermont, Massachusetts, Connecticut, and Maine were among the states with the fastest vaccine uptake; 70% of the population aged 12 years and older had completed a full vaccination series within 200 days of vaccine availability. However, as of March, 21 states had yet to vaccinate comparable portions of their populations.
"There is more than a little value in having a strong healthcare delivery system when a pandemic hits," said Blumenthal. "One may be the ability to deliver vaccination through traditional mechanisms quickly and efficiently, and the other may have to do with ICU and bed capacity."
Policies to Prepare for the Future
As for policy recommendations, the report calls for investing in public health initiatives, such as developing an evidence-based pandemic preparedness strategy; fighting the spread of misinformation, particularly online; and requiring healthcare facilities, such as nursing homes, to create a comprehensive disaster response strategy that addresses resource allocation and potential staffing challenges.
"For example, Massachusetts and some of the New England states did not perform well in nursing home mortality," noted Sara Collins, PhD, vice president of coverage and access for the Commonwealth Fund, during the briefing. "That was a sudden, dramatic, and tragic outcome of the pandemic, and states have a lot to learn in terms of protecting the elderly in confined places."
According to the report, specific recommendations to lower preventable deaths should focus on removing barriers to addiction treatment and enhancing economic security and access to housing through social programs. Other recommendations include making the American Rescue Plan's marketplace premium subsidies permanent, funding COVID-related care for uninsured people, and permitting states to offer continuous Medicaid eligibility without having to apply for a federal waiver.
Steph Weber is a Midwest-based freelance journalist specializing in healthcare and law.
For more news, follow Medscape on Facebook, Twitter, Instagram, and YouTube.