The investigational drug donanemab yielded greater amyloid clearance and amyloid plaque reduction than aducanumab in early, symptomatic Alzheimer's disease (AD) results of a head-to-head study show.
Nearly 40% of patients treated with donanemab had amyloid clearance at 6 months compared with less than 2% of those who received aducanumab, which was approved in 2021 amid a great deal of controversy.
Titration for donanemab progressed more quickly, with participants receiving a maximum dose twice as early as those on aducanumab, without any increase in rates of amyloid-related imaging abnormalities (ARIA) — the most common side effect of amyloid drugs.
Early results from the randomized phase 3 TRAILBLAZER-ALZ 4 trial of donanemab come just 3 months after the US Food and Drug Administration denied manufacturer Eli Lilly's request for accelerated approval for the drug.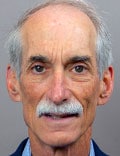 Dr Stephen P. Salloway
"This study shows that the drug with the quicker titration scheme, donanemab, produced more amyloid lowering and did it without having more ARIA," lead investigator Stephen P. Salloway, MD, director of the Memory and Aging Program at Butler Hospital in Providence, Rhode Island, and a professor of neurology at Brown University, told Medscape Medical News.
The findings were presented here at the American Academy of Neurology (AAN) 2023 Annual Meeting.
Multicenter, Head-to-Head Trial
Donanemab received breakthrough therapy designation in 2021. The drug works similarly to aducanumab and lecanemab, which was approved earlier this year. All three bind to different parts of the amyloid molecule and stimulate an immune response to help clear amyloid plaques, although they each have a distinctive binding component.
TRAILBLAZER-ALZ 4 was conducted at 31 sites across the US, enrolling 140 patients aged 50 to 85 years with early and symptomatic AD received donanemab or aducanumab at escalating doses for 18 months.
Donanemab was titrated more quickly, with participants receiving 700 mg via IV infusion once a month for 3 months before reaching the maximum dose of 1400 mg in the fourth month of the study.
Aducanumab titration was slower, beginning at 1 mg/kg via IV monthly for 2 months, then 3 mg/kg for another 2 months, and 6 mg/kg for 2 more months before reaching the maximum dose of 10 mg/kg in the seventh month.
After 6 months of treatment, PET scan analysis revealed that 37.9% of donanemab-treated patients achieved amyloid clearance compared with just 1.6% of those who received aducanumab (P < .001).
Among patients with intermediate tau levels (n = 27 for donanemab and n = 28 for aducanumab), 38.5% of those who received donanemab achieved amyloid clearance compared with 3.8% of patients in the aducanumab group (P = .008).
Amyloid levels were 65.2% lower in donanemab patients, while levels in those receiving aducanumab were only reduced by 17.0% (P < .001). Among those with intermediate tau, amyloid levels decreased with donanemab by 63.9% and 25.4% with aducanumab (P ≤ .001).
Investigators also noted a greater reduction in plasma ptau217 with donanemab.
Adverse events were similar between groups, with 62.0% of the donanemab group and 66.7% of aducanumab-treated participants reporting an adverse event.
There were no serious adverse events due to ARIA with donanemab, but one participant in the aducanumab group had a serious adverse event linked to ARIA.
"Even though the amyloid lowering was greater with donanemab, the rate of ARIA was similar, which suggests that the speed and depth of amyloid removal is not driving ARIA," Salloway said.
There are three other Trailblazer trials of donanemab. Unlike in similar trials, participants in all three of these studies who received the trial drug could discontinue treatment once criteria for amyloid clearance were met.
That's precisely what happened with Trailblazer 2, the study on which Lilly based its request for accelerated approval. Ironically, that trial design also contributed to the FDA's decision to reject that request.
The FDA required data from at least 100 patients who had received donanemab for a minimum of 1 year. While the trial included more than 100 patients, many patients discontinued treatment early after achieving the targeted amount of amyloid clearance.
"They had success, and they got punished for it, in my opinion," Salloway said.
Final data from Trailblazer 2 is due in the next month, and if results are positive, Lilly is expected to file for full approval.
Questions Remain
"This is an interesting study that suggests donanemab may remove amyloid faster in more people than aducanumab," said Heather Snyder, PhD, Alzheimer's Association vice president of medical and scientific relations, who commented on the findings for Medscape Medical News.
Also commenting on the findings for Medscape Medical News, Howard Fillit, MD, co-founder and chief science officer at the Alzheimer's Drug Discovery Foundation, noted that faster amyloid clearance "means less time for requiring sometimes burdensome and expensive infusions."
Both Snyder and Fillit noted that longer-term results are needed, along with studies of whether amyloid clearance offers a protective benefit against AD dementia. More results from Trailblazer 4 will be reported after 12 months and again at 18 months.
"There are obviously still a lot of questions about these drugs and whether reducing amyloid plaque will actually preserve cognitive function or at least slow decline," Fillit said.
It will also be important to understand the timing of treatment, including when anti-amyloid therapies should be administered and for how long.
"It will be important to understand how these results translate to patient care and treatment plans, should this drug receive FDA-approval," Snyder said. "Patients should have the opportunity to make a decision, alongside their physician, on a treatment path that is right for them."
The study was funded by Eli Lilly. Salloway has been a consultant for Biogen, EISAI, Lilly, Genentech, NovoNordisk, Prothena, and others. Snyder and Fillit have disclosed no relevant financial relationships.
American Academy of Neurology (AAN) 2023 Annual Meeting: Abstract #3126. Presented April 25, 2023.
For more Medscape Neurology news, join us on Facebook and Twitter.