Practice Essentials
Malignant rhabdoid tumor (MRT) is one of the most aggressive and lethal malignancies in pediatric oncology. (See the image below.) Although mutations or deletions of the SMARCB1 gene play a role in the development of MRT, the events that incite these genetic alterations are unknown. Several cases of familial MRT are reported. No environmental or infectious associations with MRT have been established.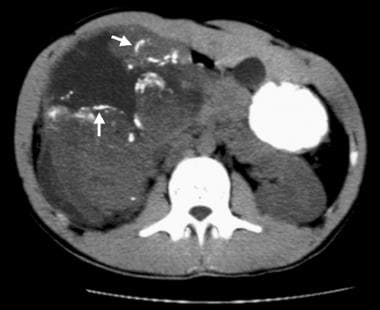 Nonenhanced CT scan demonstrates linear and curvilinear calcifications outlining tumor lobules in a malignant rhabdoid tumor (MRT) (arrows). A hypoattenuating fluid collection surrounds and separates the lobules. These imaging features are seen with MRT more often than with other childhood renal neoplasms.
Signs and symptoms
Children with MRT of the kidney present with signs and symptoms related to an intrarenal mass. Pain is difficult to assess because the median age at presentation is about 11 months. However, fussiness is reported in most patients.
Gross hematuria is a presenting feature in about 60% of patients, and fever is a presenting symptom in 50% of patients with an MRT of the kidney. Up to 20% of patients have synchronous or metachronous CNS lesions.
See Presentation for more detail.
Diagnosis
MRT is definitively diagnosed by means of histologic analysis.
Laboratory studies
The following tests may be helpful in the workup:
Complete blood cell (CBC) count: Approximately 55% of patients with MRT present with a hemoglobin level of less than 9 g/dL.
Urinalysis: Microscopic hematuria is seen in 75% of patients with MRT.
Serum calcium measurement: Up to 25% of patients with MRT present with hypercalcemia.
Imaging studies
The following imaging studies are suggested for the diagnosis and staging of MRT:
Abdominal computed tomography (CT) or magnetic resonance imaging (MRI)
Chest CT
Abdominal ultrasonography
MR, CT, fluorodeoxyglucose (FDG), and/or positron emission tomography (PET) imaging of the brain
Bone scanning (under debate if this is necessary)
See Workup for more detail.
Management
After the primary tumor is surgically removed, chemotherapy and radiation are indicated as adjuvant therapy. The treatment for MRT remains investigational. No accepted standard therapy has been established for this disease. Enrollment of patients in clinical trials is strongly encouraged.
See Treatment and Medication for more detail.