Overview
The care of children with cancer has made remarkable progress over the last 5 decades, with the cure rate now approaching 80%. Since the first large cohort of patients was cured in the 1970s, much has been learned about the long-term effects of exposure to chemotherapy, radiation and surgery in childhood. Studies have shown a mortality rate of 18% within 30 years for 5-year survivors.
Additionally, over 60% of childhood cancer survivors self-report having a chronic illness and 98% have identifiable abnormalities in end-organ function.
Additionally, many survivors face psychological or societal barriers, such as post-traumatic stress disorder (PTSD) and difficulties obtaining insurance.
The late effects of exposure to chemotherapy, radiation and surgery make the care of survivors highly complex and mandate structured, coordinated long-term follow-up.
Likewise, many children are now surviving hematopoietic stem-cell transplantation (HSCT) (see related histology slide below) and require structured long-term follow-up care. The number of long-term survivors of childhood HSCT will continue to increase as new indications for transplantation emerge, as donor pools expand (eg, umbilical-cord blood, haploidentical donors), ex vivo expansion of hematopoietic stem cells becomes feasible,
and as supportive care improves. In addition to complications seen from exposure to chemotherapy and radiation, patients undergoing allogeneic transplantation can experience unique late effects secondary to graft versus host disease (GVHD) and autoimmunity.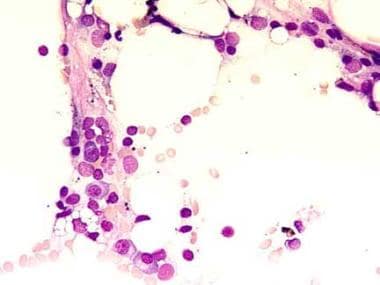 This bone marrow film at 400X magnification demonstrates a complete absence of hemopoietic cells. Most of the identifiable cells are lymphocytes or plasma cells. Photographed by U. Woermann, MD, Division of Instructional Media, Institute for Medical Education, University of Bern, Switzerland (http://www.aum.iawf.unibe.ch/).
Many of the special concerns facing long-term survivors have been highlighted in studies from Europe and the United States. In a study of the European Bone Marrow Transplant Registry,
of 798 patients who survived more than 5 years after transplantation, 328 were children. Although most were apparently well, survivors at 10 years and 15 years after HSCT continued to have an increased risk of death compared with a group of individuals from the healthy population who were age-matched and sex-matched. Causes of death were related to relapse of the underlying cancer, development of a second cancer, chronic GVHD, or transfusion-acquired viral infection. Certain patients were at higher risk for late morbidity and mortality than others; high-risk patients included male subjects, recipients of stem cells from female donors, patients younger than 10 years, those with nonidentical donors, and those who received radiation therapy in the transplant preparative regimen.
In a study from the United States, long-term survivors of pediatric bone marrow transplantation followed in the Bone Marrow Transplant Survivors Study were compared with survivors of childhood cancer treated without bone marrow transplant from the Childhood Cancer Survivor Study.
Survivors of bone marrow transplantation were more likely to have a severe or life threatening condition (relative risk [RR] = 3.9), more than one chronic condition (RR = 2.6), functional impairment (RR=3.5), and activity limitations (RR = 5.8) than conventionally treated patients. These data reinforce the need for marked vigilance in ensuring proper screening and management of long-term survivors of bone marrow transplantation.
While screening and preventative guidelines for survivors of HSCT have been developed,
these guidelines have been driven primarily by expert opinion with limited pediatric data. To stimulate and facilitate further research, the NCI and NHLBI held the First International Consensus Conference on Late Effects after Pediatric Hematopoietic Cell Transplantation on April 28 and 29, 2011. Out of this conference, a series of 6 papers were published on topics considered to be the most critical for future research efforts. These papers covered topics that included (1) methodological challenges
; (2) immune reconstitution and tolerance
; (3) organ toxicities and metabolism
; (4) quality of life, functional outcomes, and neurocognitive outcomes
; (5) endocrine challenges
; and (6) consensus guidelines for long-term follow-up after pediatric HCT.

This review highlights some of the special needs of children who survive after HSCT. The clinical manifestations of late complications are discussed to help physicians recognize them early. Specific screening and prevention measures are provided. This chapter is divided into discussions of (1) immune deficiency and chronic GVHD after HSCT; (2) secondary malignancies after HSCT; and (3) physical complications after HSCT.