Background
Wrist injuries are common among athletes. Emergency physicians and/or family practitioners frequently perform the initial evaluation of wrist injuries and determine the initial treatment. Recognizing wrist dislocations early and properly referring patients with wrist dislocations can prevent complications, including prolonged pain and discomfort, surgery, and lost time from sports participation.
See the image below.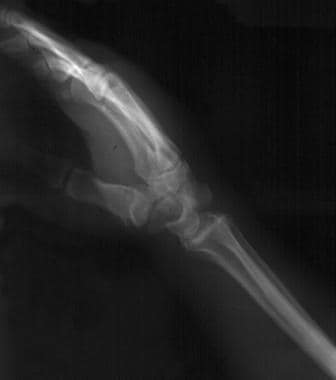 Perilunate dislocation. The lunate is in a normal anatomic position with respect to the radius. The rest of the carpal bones are displaced dorsally.
For excellent patient education resources, visit eMedicine's Breaks, Fractures, and Dislocations Center. Also, see eMedicine's patient education article, Wrist Injury.