Background
Marasmus is one of the 3 forms of serious protein-energy malnutrition (PEM). The other 2 forms are kwashiorkor (KW) and marasmic KW. These forms of serious PEM represent a group of pathologic conditions associated with a nutritional and energy deficit occurring mainly in young children from developing countries at the time of weaning. Marasmus is a condition primarily caused by a deficiency in calories and energy, whereas kwashiorkor indicates an associated protein deficiency, resulting in an edematous appearance. Marasmic kwashiorkor indicates that, in practice, separating these entities conclusively is difficult; this term indicates a condition that has features of both.

These conditions are frequently associated with infections, mainly GI. The reasons for a progression of nutritional deficit into marasmus rather than kwashiorkor are unclear and cannot be solely explained by the composition of the deficient diet (ie, a diet deficient in energy for marasmus and a diet deficient in protein for kwashiorkor). The study of these phenomena is considerably limited by the lack of an appropriate animal model. Unfortunately, many authors combine these entities into one, thus precluding a better understanding of the differences between these clinical conditions.
According to 2015 World Health Organization data, 92 million children under five years old (15%) were underweight in less developed regions.
Recent data provides a relatively small degree of optimism as the WHO reports that worldwide, the percentage of children under five years old who were underweight declined from 25% to 14% between 1990 and 2015.
A 2013 guideline by the WHO reported that severe acute malnutrition affects nearly 20 million preschool-age children, mostly from the WHO African Region and South-East Asia Region and that malnutrition is a significant factor in approximately one third of the 8 million deaths in children who are under 5 years of age worldwide.

See the image below.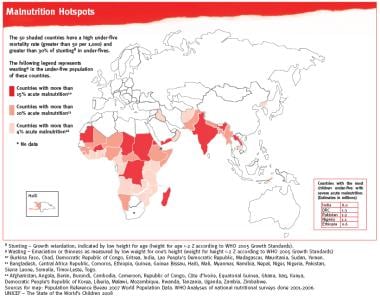 Malnutrition hotspot map. Image courtesy of the World Health Organization (WHO) and United Nations Children's Fund (UNICEF).
Malnutrition has been a permanent priority of the WHO for decades. Although a higher proportion of severely malnourished children do not survive a significant intercurrent illness, as much as 80% of the overall, unacceptably high, mortality rate may be contributed by mild-to-moderately malnourished children because this cohort is so much higher.
Accordingly, newer strategies need not be limited to only severely malnourished children.
Although PEM occurs more frequently in low-income countries, numerous children from higher-income countries are also affected, including children from large urban areas and of low socioeconomic status, children with chronic disease, and children who are institutionalized. Recently, studies of hospitalized children from developed countries have demonstrated an increased risk for PEM. Risk factors include a primary diagnosis of mental retardation, cystic fibrosis, malignancy, cardiovascular disease, end stage renal disease, oncologic disease, genetic disease, neurological disease, multiple diagnoses, PICU admission, or prolonged hospitalization.
In these conditions, the challenging nutritional management is often overlooked and underestimated, resulting in an impairment of the chances for recovery and the worsening of an already precarious neurodevelopmental situation.
Even with the recent improvements, PEM results in not only high mortality (even for hospitalized children), but also results in morbidity, stunted linear growth, and compromised neurological development. The social and economic implications of PEM and its complications are incalculable.
This article focuses mainly on marasmus that results from an insufficient nutritional intake as observed under impaired socioeconomic conditions, such as those present in developing countries. Marasmus is most frequently associated with acute infections (eg, gastroenteritis, respiratory illnesses, measles), chronic illnesses (eg, tuberculosis, HIV infection) or drastic natural or manmade conditions (eg, floods, droughts, civil war). Socio-economic factors including access to a kitchen/toilet and parental education are also significantly associated with the rate of malnutrition. Specifically, poverty and hygiene related issues contribute to stunting and to being underweight.