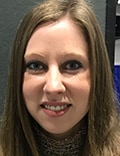 Elizabeth S. Bjornsen
Males who underwent anterior cruciate ligament reconstruction (ACLR) improved more quickly than females who underwent the same procedure, according to a study based on data from 218 adolescents and young adults.
Patient-reported outcomes (PROs) are essential for monitoring recovery and effectiveness of interventions for joint injury, as well as for assessing quality of life (QOL), writes Elizabeth S. Bjornsen, MS, of the University of North Carolina, Chapel Hill, and colleagues in a poster presented at the American College of Sports Medicine (ACSM) 2022 Annual Meeting.
The study is important because patients who undergo ACLR are at greater risk for developing osteoarthritis, Bjornsen told Medscape Medical News in an interview. PROs are often implemented in the clinical setting, and "when you have worse PROs they are associated with worse biological indicators" that are associated with increased osteoarthritis risk, she explained.
In general, patients experience improvements in QOL in the first 2 years after ACLR, she said. But trajectories of improvement in QOL based on PROs in males versus females have not been well studied.
To assess the impact of sex on QOL scores (and potential osteoarthritis risk) over time, the researchers recruited 85 males and 133 females aged 16 to 35 years who underwent ACLR. QOL was assessed using the Knee Osteoarthritis Outcome Score (KOOS) at six time points: 6, 12, 24, 36, 48, and 60 months after ACLR.
Overall, no differences appeared in KOOS QOL scores between males and females (67.07 vs 66.85; P = .93). However, KOOS scores for males improved steadily over time, while scores in females plateaued, Bjornsen said.
The mean KOOS QOL scores in a logistic regression model at 6, 12, 24, 36, 48, and 60 months were 59.71, 63.84, 72.10, 80.37, 88.63, and 96.90, for males, and 63.64, 65.01, 67.74, 70.47, 73.20, and 75.93, for females.
For ACLR patients in general, "whatever improvement occurs within 2 years is what you maintain," Bjornsen told Medscape Medical News. However, in this study, "males continued to improve over time, while females appeared to plateau," she said.
Based on the findings, the clinical takeaway is that "there should be different rehabilitation strategies for males and females" in order to mitigate osteoarthritis risk and promote better outcomes, she noted.
The study findings were limited by several factors, mainly the cross-sectional design, which did not allow for longitudinal evaluation of each patient, Bjornsen noted.
Areas for future research include identifying the sex-specific factors that might influence sex-specific recovery after ACLR, she said. For example, some research suggests that "psychological recovery is different in females" and that there may be a potential difference in biological response to the surgery.
"There Is a Problem That Needs to Be Addressed"
"Sex-based differences regarding ACL injury have long been recognized by injury risk as well as anatomic and physiologic differences," said Mark R. Hutchinson, MD, professor of orthopedics and head team physician at the University of Illinois, Chicago, in an interview with Medscape Medical News.
"This study is important as it recognizes sex-based differences in patient-reported outcomes," said Hutchinson, who was not involved with the study, but served as chair of an ACSM session on knee injuries. "This measure is critical for patient satisfaction post-surgery," he emphasized. "These authors demonstrate that while both women and men improve over time, the pace of improvement for women is slower and does not achieve the same level of men at 5 years."
The current study demonstrates that "there is a problem that needs to be addressed," Hutchinson said. "You have to recognize a problem and its causes to provide a solution or correction."
Hutchinson said he was not surprised by the sex-based difference in short-term outcome trajectories, "but I was surprised that it did not normalize over time. This would suggest that time alone is not the cure, and an intervention will be required to correct the deficit," he said.
"Next steps are to identify the cause of the finding in order to design an intervention that can address the deficit," said Hutchinson. In addition, "some might suggest repeating the study in a larger group to assure validity of their findings."
The study was supported by the National Institute of Arthritis and Musculoskeletal and Skin Diseases (NIAMS), the National Athletic Trainers' Association Research and Education Foundation, and the Department of the Army. The researchers and Hutchinson have disclosed no financial relationships. Hutchinson has served as president of the ACSM Foundation and chairman of ACSM medical education.
ACSM 2022. Abstract #1000. Presented June 2, 2022.
Follow Medscape on Facebook, Twitter, Instagram, and YouTube.