COPENHAGEN, Denmark — European recommendations and overarching principles for the management of patients with axial spondyloarthritis (axSpA) have remained largely unchanged since 2016 – with a few notable but very important exceptions.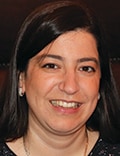 Dr Sofia Ramiro
The 2022 updated recommendations include a new point regarding which biologic agents to use for patients with recurrent uveitis, active inflammatory bowel disease (IBD), or significant psoriasis, as well as new advice to reevaluate the diagnosis and consider the presence of comorbidities if the disease doesn't respond to current therapies, reported Sofia Ramiro, MD, PhD, from Leiden University Medical Center in Leiden, the Netherlands.
She summarized the 2022 updates at the European Alliance of Associations for Rheumatology (EULAR) 2022 Annual Meeting on behalf of colleagues in the ASAS (Assessment of SpondyloArthritis International Society)/EULAR committee.
Among other significant updates are a recommendation for managing patients with persistently high disease activity despite conventional therapy, and a recommendation as to what to do when a first biologic or targeted synthetic disease-modifying antirheumatic drug (DMARD) fails, Ramiro said at the meeting.
"Although we have more changes in the pharmacological part, I would like to emphasize the importance of nonpharmacological treatment in axial SpA," she said.
Overarching Principles
The members of the committee that created the recommendations were in complete agreement that axSpA, as they state in the overarching principles, "is a potentially severe disease with diverse manifestations, usually requiring multidisciplinary management coordinated by the rheumatologist."
They also universally acknowledged that "the primary goal of treating the patient with axSpA is to maximize health-related quality of life through control of symptoms and inflammation, prevention of progressive structural damage, preservation/normalization of function, and social participation."
The overarching principles include the aforementioned emphasis on both pharmacologic and nonpharmacologic management, shared decision making between patients and rheumatologists, and awareness of the potential financial toxicities and societal problems that patients face.
A Closer Look: New Recommendations
As noted before, there are two new recommendations since the 2016 iteration.
Recommendation number 10 states, "If there is a history of recurrent uveitis or active IBD, preference should be given to a monoclonal antibody against TNF-alpha [tumor necrosis factor–alpha]. For patients with significant psoriasis, an IL-17 [interleukin-17] inhibitor may be preferred."
This recommendation stipulates that it refers only to IL-17A inhibitors.
The other new recommendation, number 11, seems like plain common sense. It states, "Absence of response to treatment should trigger re-evaluation of the diagnosis and consideration of the presence of comorbidities."
Revised Recommendations
The two significantly revised recommendations deal with drug therapy.
Recommendation number 9 holds that for patients with persistently high disease activity despite conventional therapy, a TNF inhibitor, including the pegylated humanized antigen-binding fragment certolizumab pegol (Cimzia), an IL-17 inhibitor, or Janus kinase (JAK) inhibitor, should be considered.
Recommendation number 12 states that if the first biologic or targeted synthetic DMARD fails, switching to another biologic DMARD (TNF inhibitor or IL-17 inhibitor) or JAK inhibitor should be considered.
Transatlantic Similarities, Differences
Lianne Gensler, MD, a rheumatologist and professor of medicine at the University of California, San Francisco, who served on the committee that developed the 2019 American College of Rheumatology (ACR) guidelines for the treatment of ankylosing spondylitis and nonradiographic axSpA, said that while there are similarities between some of the recommendations promulgated on each side of the Atlantic, there are significant differences and even opposing viewpoints.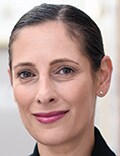 Dr Lianne Gensler
A primary difference between the two is the methodology used to arrive at the recommendations in the first place, she said in an interview with Medscape Medical News.
"ACR uses a very robust approach to guideline development, where each question is addressed by a 'PICO' ― population, intervention, control, and outcomes ― and that's good if you have good evidence, but sometimes ― often, in fact ― we don't have strong evidence that would lead everyone to choose the same approach every time, and that's true especially in inflammatory arthritis, where there's a lot of shared decision-making, so many of the recommendations out of ACR are conditional," she said.
In contrast, the ASAS/EULAR recommendations are based largely on broader levels of evidence and on consensus. In developing the European recommendations, the authors were able to take into account drugs that were newly approved since the 2019 ACR guidelines were issued, she noted.
Although many of the broader recommendations are similar, they diverge when it comes to specific issues, such as whether to treat to target.
"ACR guidelines say, 'Do not treat to target.' EULAR guidelines say it's okay to treat to target. ACR guidelines made that decision because at that time, there was no treat-to-target data," Gensler said.
"I think, as rheumatologists, we always want to aim for a goal in a patient, so it's not unreasonable, but I think we shouldn't attach too much to a number," she said.
Another difference is that the ACR guidelines recommend against switching to a biosimilar agent when a patient's condition is stable with the originator biologic.
Gensler said that she particularly appreciated the new EULAR recommendation (number 11) to reconsider the diagnosis for patients for whom therapies have failed.
"The sense that nonresponse means ongoing disease activity and therefore drug escalation or change needs to happen is not always the right answer," she said.
The process for developing the recommendations was supported by EULAR. Ramiro has received research grants and consulting and/or speaking fees from AbbVie, Eli Lilly, Galapagos, Merck Sharp and Dohme, Novartis, Pfizer, Sanofi, and UCB. Gensler has received research grant support from Novartis, Pfizer, and UCB and has consulting relationships with AbbVie, Gilead, Janssen, MoonLake, Novartis, and Pfizer.
European Alliance of Associations for Rheumatology (EULAR) 2022 Annual Meeting: Presented June 1, 2022.
Neil Osterweil, an award-winning medical journalist, is a long-standing and frequent contributor to Medscape.
For more news, follow Medscape on Facebook, Twitter, Instagram, and YouTube.