California ICU nurse Amy Erb has seen her share of nursing strikes in her 19 years as a registered nurse. But recent strikes demanding better working conditions, including one that ended Monday, seem to have gained more attention, she believes, because of how nurses were hailed as frontline heroes during the pandemic.
"I really think the pandemic shined a light on ongoing issues in hospitals," Erb said. She recalls walking with other nurses under signs recognizing them "and feeling really disposable by our employer. We are trying to do something to ensure a safer environment."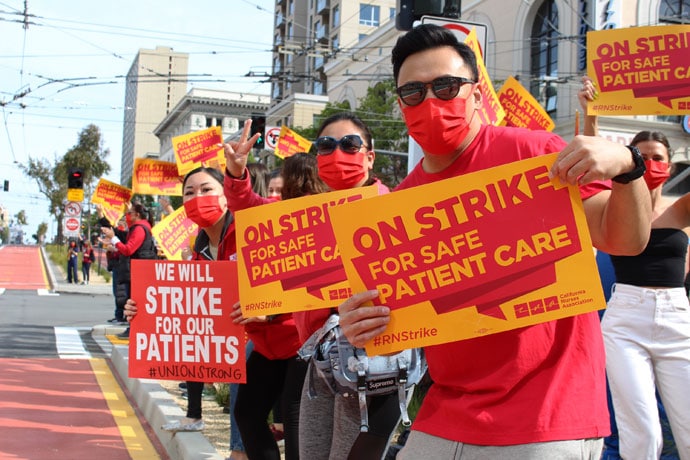 As Erb's employer, Sutter Health, continues to negotiate with the California Nurses Association (CNA) following a 1-day strike with 8000 nurses last month, another nurses union ratified a new contract on Monday with a pair of health systems to end a 1-week strike by 5000 nurses. CNA, along with National Nurses United, also represented nurses at nine Tenet Healthcare hospitals across California in a public action demonstration last week.
On Monday, the Committee for Recognition of Nursing Achievement (CRONA) ratified a 3-year contract with Stanford Health Care and Lucile Packard Children's Hospital after its recent week-long strike in which nurses demanded safer staffing and mental health support, among other issues. The walkout was touted as the first in more than 20 years for CRONA.
"After extensive discussions, we were able to reach a contract that reflects our shared priorities and enhances existing benefits supporting our nurses' health, well-being, and ongoing professional development," StanfordPackardVoice.com, a website for the health centers, reported on Monday in its update on the negotiations. The striking nurses are expected to return to work today.
Erb is the chief representative for nurses at California Pacific Medical Center, a Sutter Health facility, and a board member of the CNA. As part of the bargaining team at her facility, she represents CNA members in ongoing negotiations with Sutter Health over such issues as safe staffing, improved infectious disease protection, pandemic preparedness, and transparency. Registered nurses and healthcare workers from 18 Sutter Health facilities in Northern California held a 1-day strike on April 18.
'Put Politics Before Patients'
Before Stanford and Packard signed its agreement with CRONA, the hospitals withheld wages during the strike period and threatened to withhold health coverage from striking workers, according to their website.
"Our sincere hope is that an agreement can be reached promptly so that nurses don't lose additional pay, don't risk losing the subsidy for employer-paid health benefits and can return to patient care," the newsletter reported before the strike began on April 25.
"We know that there has been a lot of information provided to you, and we want to make clear where we stand," the newsletter continued. "We did not call the strike, we don't want you to strike, and we do not believe the strike is warranted given what the hospitals have offered to CRONA."
Sutter Health also docked pay and locked out nurses who participated in the April 18 strike for the entire week, Erb said.
In response to the 1-day labor action, Sutter Health said in a press statement: "By moving forward with today's costly and disruptive strike, union leadership has made it clear they are willing to put politics above patients and the nurses they represent — despite the intervention of federal mediators and our willingness to bargain in good faith while under threat of a strike."
Sutter Health stated that it was "confident in our ability to manage this disruption" and was hopeful of reaching an agreement to "enable our nurses to turn their focus back to the patients the union has asked them to walk away from."
Erb said nurses have been bargaining since last June with proposals to their employer that didn't result in any "meaningful proposals."
Among their demands, the nurses want better staffing levels so that they don't have to work 12-16 hours a day and overtime. "We want a long-term solution to these staffing issues," Erb said. In addition, they seek more transparency about whether the health system is meeting the state-required stockpile of 3 months of personal protective equipment (PPE).
Throughout the pandemic, Sutter Health nurses were issued only one N95 mask to wear for each 12- to 15-hour shift, and the PPE was locked up to make it difficult to access, Erb said. "None of this is a safe situation, and if nurses are not safe, nobody is safe."
Follow Medscape on Facebook, Twitter, Instagram, and YouTube