Background
Poliomyelitis is an enteroviral infection that can manifest in 4 different forms: inapparent infection, abortive disease, nonparalytic poliomyelitis, and paralytic disease. Before the 19th century, poliomyelitis occurred sporadically. During the 19th and 20th centuries, epidemic poliomyelitis was more frequently observed, reaching its peak in the mid-1950s. The worldwide prevalence of this infection has decreased significantly since then because of aggressive immunization programs. Eradication of this disease during the present decade is a top priority for the World Health Organization (WHO).
See the image below.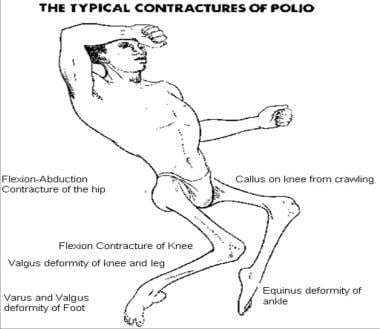 The typical contractures of postpolio residual paralysis.
See 11 Travel Diseases to Consider Before and After the Trip, a Critical Images slideshow, to help identify and manage several infectious travel diseases.