Background
Epiglottitis, also termed supraglottitis or epiglottiditis, is an inflammation of structures above the insertion of the glottis and is most often caused by bacterial infection. Before widespread Haemophilus influenzae type b (Hib) vaccination, H influenzae caused almost all pediatric cases of epiglottitis.
Affected structures include the epiglottis, aryepiglottic folds, arytenoid soft tissue, and, occasionally, the uvula. The epiglottis is the most common site of swelling. Acute epiglottitis and associated upper airway obstruction has significant morbidity and mortality and may cause respiratory arrest and death.
The following image illustrates the difference between a normal pediatric airway and one from a child with fatal epiglottitis.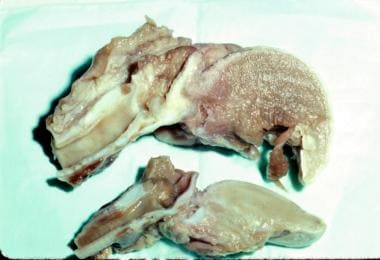 Comparison of a normal pediatric airway (bottom) and airway from a child who died from epiglottitis (top).