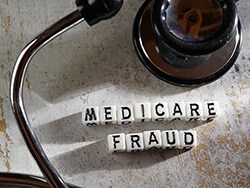 The federal government will intervene in a cluster of lawsuits that allege Kaiser Permanente's Medicare Advantage plans submitted inaccurate diagnostic codes for members to get higher reimbursements.
The Department of Justice (DOJ) said federal investigations led it to opt-in to participation in six lawsuits filed under the whistleblower provisions of the False Claims Act. These cases were consolidated in the federal court system.
Kaiser allegedly pressured physicians to create addenda to medical records after patient encounters, often months or over a year later, to add risk-adjusting diagnoses that patients did not actually have, the DOJ said on July 30.
"Today's action sends a clear message that we will hold healthcare providers and plans accountable if they seek to game the system by submitting false information," said Deputy Assistant Attorney General Sarah E. Harrington of the DOJ's Civil Division in a statement.
Kaiser Permanente said in a statement it was "confident" that it had complied with Centers for Medicare & Medicaid Services (CMS) requirements and federal law. Oakland, California-based Kaiser said its policies "present well-reasoned and good-faith interpretations of sometimes vague and incomplete guidance from CMS." Kaiser added it had done well on CMS's audits of risk-adjustment data.
"With such a strong track record with CMS, we are disappointed the Department of Justice would pursue this path," Kaiser said, adding it planned to defend itself against these cases.
Less than a year ago, though, Kaiser settled a case involving a similar allegation.
In November, Kaiser Foundation Health Plan of Washington, formerly known as Group Health Cooperative (GHC), agreed to pay $6.4 million to resolve allegations that it submitted invalid diagnoses to people covered by Medicare Advantage plans, and thus, received inflated payments. The claims resolved by the settlement were allegations only; there has been no determination of liability, DOJ said.
That case stemmed from allegations originally brought in a lawsuit filed under the whistleblower, or qui tam, provisions of the False Claims Act. This law is intended to reward people who bring to light violations of federal law, often by their employers, by suing on behalf of the government. They can receive a share of funds recovered.
The case resolved in November involved Teresa Ross, a former employee of Group Health. The act permits private parties to sue on behalf of the government for false claims for government funds and to receive a share of any recovery. The share for Ross in this case was about $1.5 million, DOJ said in a statement last year.
The pending consolidated cases against Kaiser were also filed under the whistleblower provisions of the False Claims Act. They are United States ex rel Osinek vs Kaiser Permanente, 3:13-cv-03891; United States ex rel Taylor vs Kaiser Permanente, et al, 3:21-cv-03894; United States ex rel Arefi, et al vs Kaiser Foundation Health Plan, Inc, et al, 3:16-cv-01558; United States ex rel Stein, et al vs Kaiser Foundation Health Plan, Inc, et al, 3:16-cv-05337; United States ex rel Bryant vs Kaiser Permanente, et al, 3:18-cv-01347; and United States ex rel Bicocca vs Permanente Med. Group, Inc, et al, No. 3:21-cv-03124.
The Office of the Inspector General (OIG) — the internal watchdog of the Department of Health and Human Services — helped the DOJ assess these cases.
Incentives to Make Patients Appear Sicker
OIG's previous work examining Medicare Advantage plans includes a 2019 report examining how chart reviews had worked to increase payments. OIG's investigation found that more than 99% of chart reviews examined had added diagnoses. OIG estimated that diagnoses reported only on chart reviews — and not on any service records — resulted in an estimated $6.7 billion in risk-adjusted payments for 2017.
CMS uses what are called risk-adjustment tools to try to compensate insurer-run Medicare plans for caring for more people with serious illnesses. For years, federal officials and advisers have raised concerns about insurance plans gaming coding to gain extra pay. The Medicare Payment Advisory Commission (MedPAC) has offered recommendations on steps to address this concern, including changes to the risk-adjustment model.
David Meyers, PhD, MPH, an assistant professor of health services, policy, and practice at Brown University School of Public Health, has published research that addresses concerns about how insurer-run plans use coding, including a 2020 article published in the journal Health Affairs, entitled, "Provider Integrated Medicare Advantage Plans Are Associated With Differences in Patterns of Inpatient Care."
He said physicians don't have an incentive to pushback against attempts to gain extra payment for Advantage plans, nor in other contexts such as accountable care organizations. In fact, Myers said, physicians these days face a variety of systems in which metrics are used to make judgments about the quality of their performance and then adjust their payments. That gives them less reason to seek to question systems that may be geared toward adding diagnoses to their patients' charts.
"Some of the pushback from physicians maybe isn't as loud as it might be" about the practice of using medical records to gain reimbursement beyond what a patient's health status merits, Meyers said. "If anything, it potentially makes the physicians' patient samples look sicker, which could lead to more payments for them."
Kerry Dooley Young is a freelance journalist based in Washington, DC. She is the core topic leader on patient safety issues for the Association of Health Care Journalists. Young earlier covered health policy and the federal budget for Congressional Quarterly/CQ Roll Call and the pharmaceutical industry, and the US Food and Drug Administration for Bloomberg. Follow her on Twitter at @kdooleyyoung
Follow Medscape on Facebook, Twitter, Instagram, and YouTube.