MANCHESTER—World-renowned oncologist Professor Justin Stebbing has told a medical tribunal that's he's been on a 4 year learning curve and recognised he'd "got things wrong and made many mistakes".
Prof Stebbing, a cancer medicine and oncology professor at Imperial College London with a private practice in Harley Street, said he'd had time to reflect and his "only motivation" had been to help patients.
His international reputation for innovative treatments has led to wealthy, terminally ill cancer patients from around the globe turning to him in the hope of extending their lives.
They've included New Zealand multi-millionaire Sir Douglas Myers and the actor Lynda Bellingham.
Prof Stebbing, who's facing a Medical Practitioners Tribunal Service (MPTS) fitness to practise hearing, is accused of failing to provide good clinical care to 12 patients between March 2014 and March 2017.
In some cases, he's accused of inappropriately treating patients given their advanced cancer or poor prognosis, overstating life expectancy and the benefits of chemotherapy, and continuing to treat patients when it was futile and they had just weeks to live.
The 36 charges – 21 of which Prof Stebbing has admitted – also include failing to keep proper records and failing to gain informed consent for treatment from patients.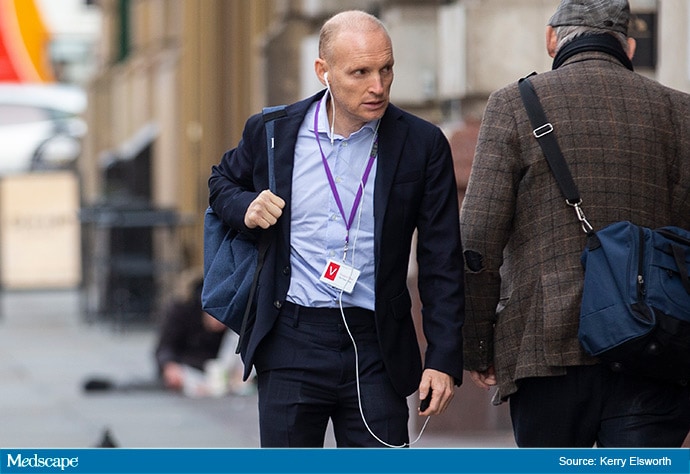 Learning Curve
The long-running tribunal, which began in January 2020, heard about Prof Stebbing's admissions due to the "impact" of experts' evidence.
"It's difficult to quantify the impact of any particular piece [of evidence]," he said.
"What I would say is since 2017 I've been on a learning curve, considering different points of views.
"I do think it's easy to understand that someone can misinterpret what I did without any notes and now I appreciate the full importance of that.
"But in general reflection it is about maturity, not just about turning a switch. It comes with a lot of pain and paying a price, accepting what's happened which explains in part why my witness statements are inadequate at first because I hadn't reached that point and now I have.
"I've made concessions and admissions in recognising I've got things wrong and made many mistakes."
Patient G
Earlier, Prof Stebbing was forced to deny accusations by Sharon Beattie QC for the GMC that he alone had made decisions about treating one seriously ill lung cancer patient – known only as Patient G – after colleagues at the London Clinic had raised concerns about the chemotherapy he was given.
The 73-year-old patient, who suffered a collapsed lung and surgical emphysema, died a few days later and the incident led to an investigation by the private hospital, one of England's largest, with Prof Stebbing later suspended after "losing the confidence" of staff.
He told Ms Beattie that he was being portrayed as "someone who made decisions in a vacuum" which wasn't the case and he'd consulted colleagues about Patient G's treatment.
Ms Beattie then challenged Prof Stebbing after he'd described a realistic assessment of the patient's condition as a "nauseating prospect".
She asked Prof Stebbing whether allowing someone to die in dignity and comfort without treatment when there was no realistic prospect of success was a "nauseating approach to take".
Prof Stebbing, who denies charges of inappropriately prescribing the patient chemotherapy given he was too unwell to receive it, inappropriately escalating care to assisted ventilation, and failing to obtain informed consent, said he'd believed there was a "reasonable prospect of success".
He said he'd apologised to Patient G's daughter after her father died but he "wasn't sorry" for trying to treat him and it had been a "very, very tricky clinical situation" with "extreme uncertainty".
Team Player
Prof Stebbing's QC Mary O'Rourke asked him about claims from Ms Beattie that he couldn't accept criticism and personalised complaints.
He said he saw himself as a "team player" and pointed to the papers he'd had published that involved working with different clinicians from different institutions and countries.
When he left HCA Healthcare, he said, 80 different consultants wrote letters saying how he'd "looked after patients beautifully" and a petition had been signed by colleagues across different disciplines.
Ms O'Rourke also asked whether he was someone whose decisions "couldn't be challenged".
"These 12 patients are really tricky patients and there are no guidelines, no rights or wrongs," he replied.
"You can't read how to manage these individuals in a book, whether they're involved with international doctors, their disease is completely refractory to treatment, or they had such rapidly progressive disease.
"But I'd really like to think I had an open and enquiring mind, I asked questions and I thought not only about the guidelines but also thinking outside of the box, how best to improve the patient's quantity and quality of life, that they understood the risk and benefits of treatment, my colleagues were on board and we had a team approach.
"I'd like to think if anyone challenged me, I'd take that on board."
Reflections
As Prof Stebbing concluded his evidence, he told MPTS Panel Chair Hassan Khan: "I was reflecting on why I did medicine in the first place at times.
"I know it's the corniest thing in the book but I only ever did it to help people. That was my only motivation."
The tribunal has been adjourned until August when the defence is expected to call several witnesses, and is due to conclude in November.
Ian Leonard is a freelance journalist experienced in covering MPTS hearings.