Background
Injuries to the lumbar spine have received only a small amount of attention compared with other athletic injuries.
This can be explained by a number of reasons. Spinal fractures are relatively uncommon in sports participation compared with other types of injuries; most injuries to the lumbar spine are relatively minor and fit into the category of soft-tissue injuries. These soft-tissue injuries are usually self-limited and resolve without coming to the attention of healthcare professionals.

The mechanisms and severity of sports-related lumbar spinal injuries reflect a competitive and risk-taking culture.
Lumbar spine bony injuries are often limited to specific sports, most frequently seen in sports such as automobile or motorcycle racing,
skydiving
(see the image below), power weight lifting,
wrestling,
gymnastics,
football,
hockey,
rowing,
horseback riding,
and high-speed snow sports.
This article reviews the diagnosis and management of acute lumbar vertebral fractures.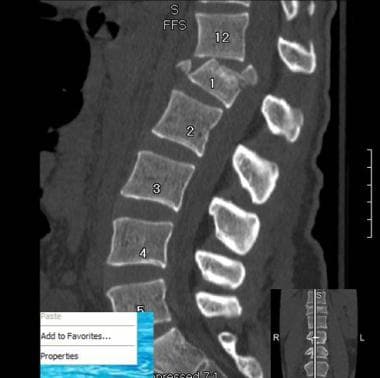 Sagittal computed tomography scan reconstruction of a young female who had a skydiving accident. The parachute deployed, but the patient landed on concrete and sustained a lower-extremity fracture and a fracture of L1. She was neurologically intact but required an open reduction with a fusion and instrumental fixation of the fracture.
For excellent patient education resources, see eMedicineHealth's patient education articles Vertebral Compression Fracture and Low Back Pain.
Related Medscape Reference topics:
Lumbar Disk Problems in the Athlete
Lumbar Spine Fractures and Dislocations
Lumbosacral Discogenic Pain Syndrome
Related Medscape resources:
Resource Center Exercise and Sports Medicine
Resource Center Joint Disorders
Resource Center Spinal Disorders
CME/CE Back Pain in a 39-Year-Old Man from Guatemala
CME Early Surgery for Severe Sciatica Relieves Pain Faster Than Conservative Treatment
CME/CE Low Back Pain: Evaluating Presenting Symptoms in Elderly Patients