Background
Pancreatitis, although uncommon during childhood, is associated with significant morbidity and mortality. Pancreatitis is characterized by inflammation of the pancreas, clinical signs of epigastric abdominal pain, and elevated serum digestive enzymes. Pancreatitis can be local or diffuse and is classified as acute, chronic, inherited, necrotic, or hemorrhagic. Occasionally, pancreatitis is complicated by the formation of a fibrous-walled cavity filled with pancreatic enzymes, termed a pseudocyst. See the images below.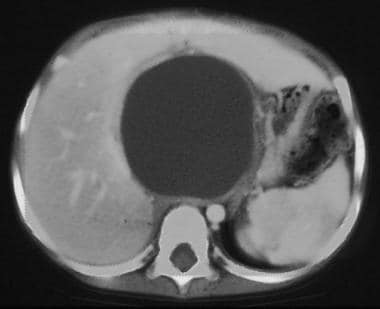 This CT scan of the abdomen in the region of the pancreas demonstrates a large well-marginated cystic structure that represents a pancreatic pseudocyst.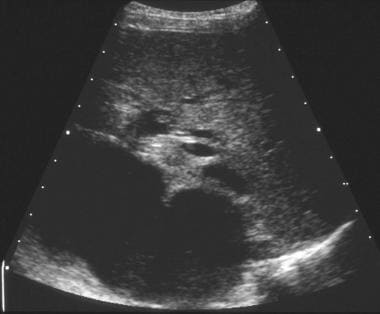 This real-time ultrasonography of the abdomen, with attention to the right upper quadrant, revealed a loculated fluid collection in the hilum of the liver. This was compatible with a pancreatic pseudocyst. Differential diagnosis included a large choledochal cyst.
For excellent patient education resources, visit eMedicineHealth's Digestive Disorders Center. Also, see eMedicineHealth's patient education articles Pancreatitis and Abdominal Pain in Children.