Background
Acute appendicitis is acute inflammation and infection of the vermiform appendix, which is most commonly referred to simply as the appendix. The appendix is a blind-ending structure arising from the cecum. Acute appendicitis is one of the most common causes of abdominal pain and is the most frequent condition leading to emergent abdominal surgery in children. The appendix may be involved in other infectious, inflammatory, or chronic processes that can lead to appendectomy; however, this article focuses on acute appendicitis. Appendicitis and acute appendicitis are used interchangeably. (See Anatomy, as well as Pathophysiology.)
Images of pediatric appendicitis are provided below.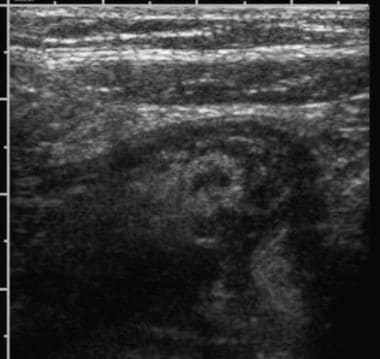 Ultrasonographic examination of the right lower quadrant reveals a greater than 6-mm noncompressible tubular structure shown in cross section. Discomfort was noted as the probe was depressed over this structure. A small amount of free fluid is also noted surrounding the appendix.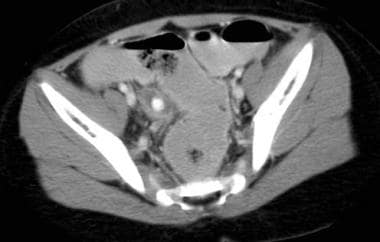 CT scan depicting a distended tubular structure descending into the pelvis and containing a round calcification (ie, an appendicolith).
See Appendicitis: Avoiding Pitfalls in Diagnosis, a Critical Images slideshow, to help make an accurate diagnosis.
Also see the 12 Can't-Miss Findings on Pediatric Imaging Studies slideshow to help correctly evaluate abnormal findings in imaging studies for pediatric patients.
Common symptoms of acute appendicitis include abdominal pain, fever, and vomiting. The diagnosis of appendicitis can be difficult in children because the classic symptoms are often not present. (See Clinical Presentation.)
A delay in the diagnosis of appendicitis is associated with rupture and associated complications, especially in young children. Improvements in rupture rates have been made with advanced radiologic imaging. Appendicitis is a clinical diagnosis with imaging used to confirm equivocal cases. (See Workup.)
The definitive treatment for appendicitis is currently appendectomy. Initiation of antibiotics upon diagnosis is critical to initiate treatment, slow the infectious process and prevent progression of a nonperforated appendix. Key to any evaluation and treatment plan are the following: relieve the patient's pain and discomfort early and consistently; communicate with the patient and family about the plans; repeat the examination often; adjust the differential diagnosis as appropriate; and keep the patient for observation if a firm diagnosis is not made. (See Treatment and Management.)
The most widely used antibiotic regimen is a penicillin based regimen such as piperacillin/tazobactam or ampicillin/clavulanic acid or the combination of ampicillin, clindamycin (or metronidazole), and gentamicin. If a penicillin allergy exists, regimens including cephalosporins, aminoglycosides and clindamycin may be used. (See Medication.)
Patient education
For patient education information, see the Digestive Disorders Center, as well as Appendicitis and Abdominal Pain in Children.