Background
Primary hyperinsulinism is a rare but important cause of hypoglycemia in infants and children. It is the most common cause of neonatal hypoglycemia that persists beyond the first few hours of life.

The clinical presentation varies with the age of the child. Early diagnosis and treatment are essential to prevent seizures and neurologic sequelae. Persistent hypoglycemia and inappropriately high concentrations of circulating insulin are diagnostic findings. The concentrations of free fatty acids (FFAs) and ketones (ie, beta-hydroxybutyrate, acetoacetate) are low. Several genetic causes of persistent hyperinsulinism have been identified.
See the image below.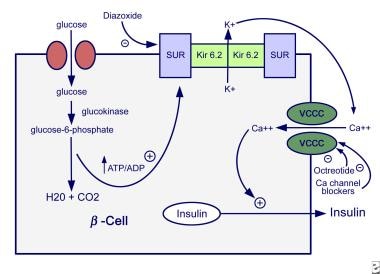 Mechanisms of insulin secretion.