Background
Several types of quadriceps injuries can occur, the most common being the quadriceps contusion, which is painful and disabling. The usual cause of the quadriceps contusion is a direct blow to the anterior thigh from an object or another person (eg, helmet, knee). Very rarely, this injury can be severe enough to progress to an acute compartment syndrome.
Because the quadriceps is in contact with the femur throughout its length, it is susceptible to compression forces. The rectus femoris is the most commonly injured portion of the muscle because of its anterior location. Minimally, impact causes cellular edema of the muscle, but complete capillary disruption with localized hemorrhage leading to a tense anterior compartment can occur. The muscle is more resistant to injury if it is struck while in a contracted nonfatigued state. Other quadriceps injuries range from simple strains to more complex and disabling muscle ruptures. See the image below.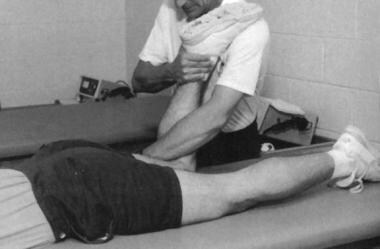 Modified treatment of quadriceps contusion. Used with permission courtesy of John Aronen, MD.
Other types of quadriceps injuries include strains of the quadriceps tendon, complete and partial tears of the quadriceps tendon, and fascial rupture of the quadriceps muscle. Specific areas of the quadriceps are affected for each of these diagnoses. The classic quadriceps strain occurs at the conjoined muscle tendon junction (jumper's knee). The partial tear of the quadriceps most commonly affects the indirect (distal) head of the rectus femoris. Fascial rupture usually occurs anteriorly at the mid thigh and causes a muscle hernia.