Background
The spectrum of femur fractures is wide and ranges from non-displaced femoral stress fractures to fractures associated with severe comminution and significant soft-tissue injury. Femur fractures are typically described by location (proximal, shaft, distal). These fractures may then be categorized into three major groups; high-energy traumatic fractures, low energy traumatic fractures through pathologic bone (pathologic fractures) and stress fractures due to repetitive overload.
This article gives a general overview of femoral fractures and injuries that may be encountered in the athlete, with special attention to femoral shaft stress fractures. For fractures of the femoral diaphysis, see Femur Fracture. For proximal femur fractures (subtrochanteric to femoral head), see Hip Fracture in Emergency Medicine. For fractures of the distal femur (supracondylar to condylar), see Knee Fractures. For femoral neck stress fractures, see Femoral Neck Stress Fracture.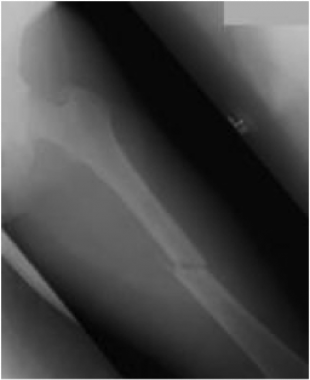 An example of an isolated, short, oblique midshaft femur fracture. Although not seen in this x-ray film, radiographic visualization of both the proximal and distal joints should be performed for all diaphyseal fractures.
See Football Injuries: Slideshow, a Critical Images slideshow, to help diagnose and treat injuries from a football game that can result in minor to severe complications.
Traumatic femur fractures in the young individual are generally caused by high-energy forces and are often associated with multisystem trauma. In the elderly population, femur fractures are typically caused by a low energy mechanism such as a fall from standing height. Isolated injuries can occur with repetitive stress and in the presence of metabolic bone diseases, metastatic disease or primary bone tumors.

The femur is very vascular, and fractures can result in significant blood loss into the thigh. Up to 40% of isolated fractures may require transfusion as such injuries can result in loss of up to three units of blood.
This factor is significant, especially in elderly patients who have less cardiac reserve.
Femur fracture patterns vary according to the direction of the force applied and the quantity of force absorbed. A perpendicular force results in a transverse fracture pattern, an axial force may injure the hip or knee, and rotational forces may cause spiral or oblique fracture patterns. The amount of comminution present increases with increasing amounts of force.

Most femur fractures are treated surgically. The goal of early surgical treatment is stable, anatomic fixation, allowing mobilization as soon as possible. Surgical stabilization is also important for early extremity function, allowing both hip and knee motion and strengthening. Injuries and fractures of the femur may have significant short and long-term effects on gait kinematics and function if alignment is not restored.
For patient education resources, see the First Aid and Injuries Center and Broken Leg.
Related Medscape resources:
Resource Center Exercise and Sports Medicine
Specialty Site Emergency Medicine
Specialty Site Orthopaedics
CME A 49-Year-Old Man With a Femur Fracture and Hyperdense Bones