Background
The posterior cruciate ligament (PCL) is described as the primary stabilizer of the knee by many authors. PCL injuries are less common than anterior cruciate ligament (ACL) injuries, and they often go unrecognized. The PCL is broader and stronger than the ACL and has a tensile strength of 2000 N. Injury most often occurs when a force is applied to the anterior aspect of the proximal tibia when the knee is flexed. Hyperextension and rotational or varus/valgus stress mechanisms also may be responsible for PCL tears. Injuries may be isolated or combined with other ligamentous injuries. A PCL tear can result in varying degrees of disability, from no impairment to severe impairment. PCL injury has been overly simplified, and the functional disability of PCL injury may be underestimated.
The radiographs below demonstrate the results of such injuries, comparing a normal knee with one that has a damaged PCL.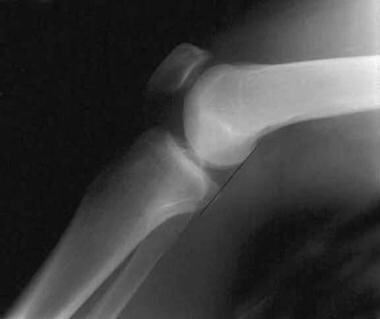 A normal lateral radiograph of a knee. In a normal knee, a line drawn along the posterior femoral condyle will not intersect the posterior tibial condyle.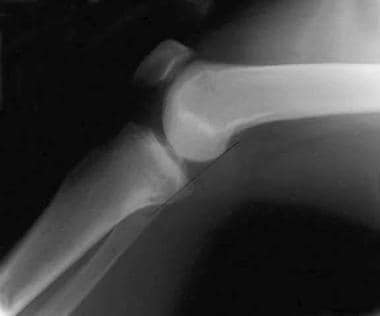 A lateral radiograph of a knee with a posterior cruciate ligament injury. Note that the same line as in the above image will bisect the posterior tibial condyle due to a posterior sag and an incompetent posterior cruciate ligament.
The primary function of the PCL is to prevent posterior translation of the tibia on the femur. The PCL also plays a role as a central axis controlling and imparting rotational stability to the knee. This injury has received little attention in the past, compared with the ACL; however, this emphasis on the ACL has stimulated increased interest in the treatment of PCL injuries. Controversy regarding treatment of isolated PCL injuries exists in the literature, with recommendations supporting both operative and nonoperative therapy. Current management of PCL injuries unfortunately can yield relatively poor clinical outcomes, whether surgically or conservatively treated.