Background
Like many other lesions associated with congenital heart disease (CHD), the terminology that surrounds double-chambered right ventricle (DCRV) has evolved over the past several decades. Double-chambered right ventricle was originally described more than 130 years ago. Clinical series began describing it extensively in the 1960s.
Double-chambered right ventricle is better understood as a form of septated right ventricle (RV) caused by the presence of abnormally located or hypertrophied muscular bands.
The abnormally located or hypertrophied muscle bundles divide the RV cavity into a proximal and a distal chamber. Those muscle bundles run between an area located in the ventricular septum, beneath the level of the septal leaflet of the tricuspid valve, and the anterior wall of the RV. Frequent associated lesions include ventricular septal defect (VSD), pulmonary valve stenosis, and discrete subaortic stenosis.
As outlined by Restivo et al, several subtypes of divided RV are noted.
These subtypes include anomalous septoparietal band, anomalous apical shelf, hypertrophy of apical trabeculations, anomalous apical shelf with Ebstein malformation, and sequestration of the outlet portion of the ventricle from a circumferential muscular diaphragm in patients with tetralogy of Fallot. Double-chambered right ventricle, the most common form, is noted by the presence of anomalous muscle bundles (AMB) that divide the RV into 2 chambers. However, no uniformity is observed in the position of these anomalous muscle bundles or in the manner in which the RV is divided.
See the images below.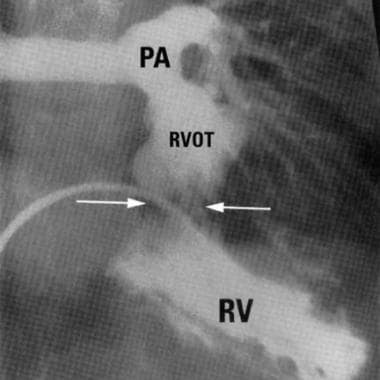 Right anterior oblique (RAO) angiogram demonstrating proximal and distal chambers of right ventricle (Image courtesy of R.M. Freedom, MD).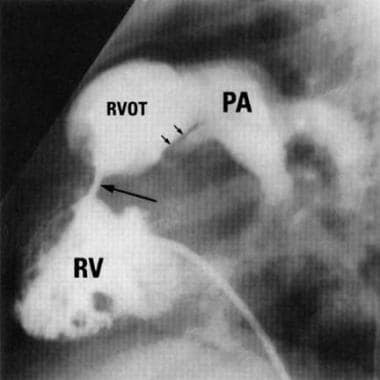 Lateral right ventriculography of a patient with double-chambered right ventricle. Large arrow indicates the presence of a fibromuscular obstruction with division of the right ventricle; small arrows outline pulmonary valve stenosis (Image courtesy of R.M. Freedom, MD).
For patient education resources, see Heart Health Center as well as Tetralogy of Fallot.