Overview
The peripheral vestibular system is an integral part of the labyrinth that lies in the otic capsule in the petrous portion of the temporal bone.
The vestibular system, which is the system of balance, consists of 5 distinct end organs: 3 semicircular canals that are sensitive to angular accelerations (head rotations) and 2 otolith organs that are sensitive to linear (or straight-line) accelerations.

The semicircular canals are arranged as a set of 3 mutually orthogonal sensors; that is, each canal is at a right angle to the other 2. This is similar to the way 3 sides of a box meet at each corner and are at a right angle to one another. Furthermore, each canal is maximally sensitive to rotations that lie in the plane of the canal. The result of this arrangement is that 3 canals can uniquely specify the direction and amplitude of any arbitrary head rotation. The canals are organized into functional pairs, wherein both members of the pair lie in the same plane. Any rotation in that plane is excitatory to one of the members of the pair and inhibitory to the other.
The otolith organs include the utricle and the saccule. The utricle senses motion in the horizontal plane (eg, forward-backward movement, left-right movement, or a combination thereof). The saccule senses motions in the sagittal plane (eg, up-down movement). (See the images below.)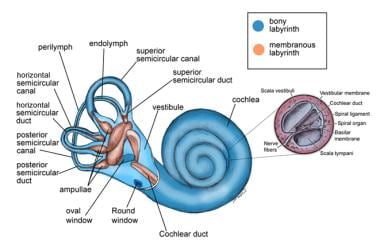 Anatomy of the labyrinth.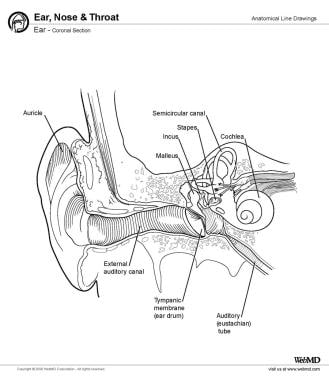 Ear, coronal section.
Anatomy of the vestibular system. Courtesy of Hamid R Djalilian, MD.