Background
Definition and history
Microstomia is the term used to describe a congenital or acquired reduction in the size of the oral aperture that is severe enough to compromise cosmesis, nutrition, and quality of life.
In recent years, the development of improved surgical reconstructive techniques, particularly the transfer of regional flaps and vascularized free tissue, has made this disorder increasingly rare among adults who undergo lip resections. As a consequence, microstomia due to connective-tissue disorders has become more important in adults.
During the early 1900s, electrical service became available to most Americans. On the other hand, lye and other caustic substances were introduced into many homes as household cleaners. Coincidentally, microstomia due to accidental burns and subsequent scarring around the mouth was noted to affect an increasing number of children. Despite federal legislation that mandated protections incorporated into both electrical wiring and packaging for caustic materials, such accidents remain a frequent cause of microstomia among children.
Advances in prosthetic dentistry over the past 30 years have improved early management of pediatric patients with oral burns, but surgical correction is still sometimes indicated.
Less commonly, genetic disorders are associated with microstomia. Earlier identification of children with this problem has resulted in avoidance of complications and early intervention when necessary.
The image below shows a child with microstomia.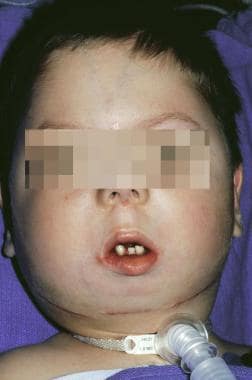 Child with craniofacial anomalies and microstomia. A tracheotomy is in place for airway control because of micrognathia. Advancement osteotomies have been performed in an effort to lengthen the mandible.