Overview
Prophylaxis with antimicrobials has decreased the high incidence of wound infection after head and neck operations that involve incisions through oral or pharyngeal mucosa. Prophylactic administration of antibiotics can decrease postoperative morbidity, shorten hospitalization, and reduce overall costs attributable to infections.

Principles of prophylaxis include providing optimal and effective dosing of antibiotics at the time of wound exposure and effective prophylactic regimens. The regimen should be only be directed against the most likely pathogens. Selecting the antibiotic regimen should largely be based on location of the surgical incision; however the need to assess for epidemiological factors such as common offending bacteria and their respective susceptibility panels should also be addressed.
Many antimicrobials require a single dose given within 60 minutes of skin incision to provide adequate tissue concentration throughout the operation. Additional doses during the procedure are advisable if surgery is prolonged (ie, > 4 h), major blood loss occurs, or an antimicrobial with a short half-life is used. The antibiotics should be discontinued 24 hours after surgery, as the prolonged use of prophylaxis leads to bacterial resistance and increased hospital costs.

The immunocompetency of the patient should also be evaluated, which includes attentiveness to factors such as history of previous surgery creating scarring, radiation exposure, malnourishment, or HIV infection, among others. However, a diagnosis of diabetes mellitus remains controversial in assessing complication risk specific to head and neck surgery. This review therefore highlights the multifactorial nature of administering appropriate and efficacious antibiotic prophylaxis to reduce postsurgical complications.

See the image below.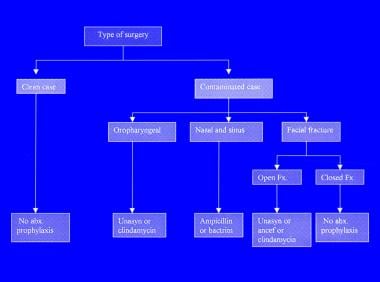 Algorithm for use of prophylactic antibiotics in head and neck surgery.