Background
Traumatic optic neuropathy is a devastating potential complication of closed head injury. The hallmark of an optic neuropathy, traumatic or otherwise, is a loss of visual function, which can manifest by subnormal visual acuity, visual field loss, or color vision dysfunction. The presence of an afferent pupillary defect strongly suggests a prechiasmal location for the injury and is necessary to support the diagnosis of traumatic optic neuropathy. Vision loss associated with traumatic optic neuropathy can be partial or complete and temporary or permanent.

An image depicting successful decompression of the orbit can be seen below.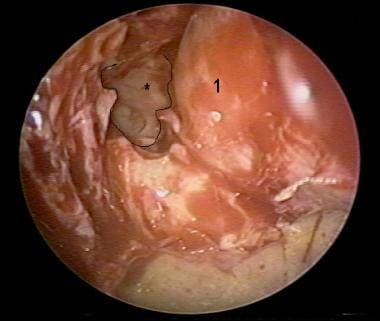 This image represents the successful decompression of the orbit. The periorbital fat that encases the orbit can be seen herniating into the intranasal cavity (1). This procedure reduces the intraorbital pressure.