Overview
Granulomatous diseases comprise a small but important subset of diverse ear problems. By definition, a granuloma is a nodular inflammatory lesion. They are usually small and consist primarily of compact mononuclear phagocytes. Granulomas are different from other inflammatory reactions; they represent an ultimately unsuccessful localized attempt to rid the host of an offending organism or process. Granulomatous diseases in the middle ear may be localized primarily to the ear and surrounding tissues, or they may be a manifestation of a body-wide disseminated problem.
Granulomatous reactions may mimic other, far more common middle ear diseases. The common presentation of a draining ear is nearly indistinguishable from that of common otitis media. A high index of suspicion and knowledge about possible causes are required for accurate diagnosis and effective treatment.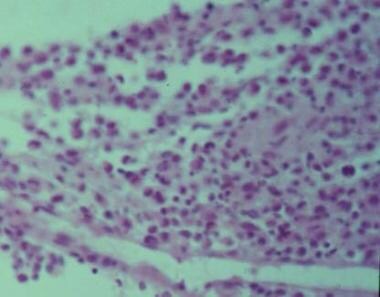 Histology of eosinophilic granuloma.