Brief Overview of Molecular Biology and Cancer
The discovery of the structure of DNA by Francis Crick and James Watson in the early 1950s ushered in a new era in molecular biologic science. This technologic and biologic revolution continued through the 1960s to today, and the explosion in technology has fueled the current expansion of knowledge into the working of the human cell. As of 2003, 99% of the chemical base pairs that make up human DNA had been sequenced to within 99.99% accuracy. In turn, as a result of research into the abnormal cancer cell, the basic understanding of the cell has greatly improved. Successful translational research has allowed gene therapy trials to proceed.
Work across many laboratories is geared toward elucidating the genetics behind cancer, discovering cellular mechanisms that lead to cancer, and elucidating intracellular and intercellular interactions that allow this progression.
Identifying candidate precursors or enabling genes may pave the way for cancer screening, as with the ret proto-oncogene and medullary thyroid carcinoma. One technique that is garnering wide attention in this realm is the DNA array, in which a number of different genes from an individual can be processed to look at certain genotypes. Eventually, new treatments will develop from these efforts.
A few gene therapy trials now target head and neck cancer, which comprises only 4% of all cancers but has a dismal prognosis in advanced stages.
Of the estimated 41,000 patients in the United States who develop this cancer each year, 13,000 are believed to die from the disease. In other parts of the world, head and neck cancer is much more prevalent. The male-to-female ratio in head and neck cancer is 2:1.
An image depicting head and neck squamous cell carcinoma in vitro can be seen below.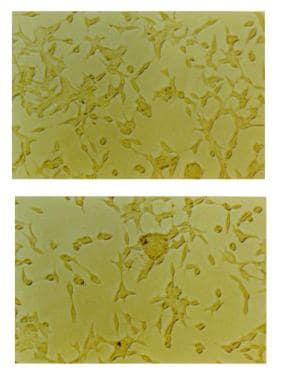 Head and neck squamous cell carcinoma in vitro (cell culture).