Overview
Merkel cell carcinoma (MCC) is an unusual and highly aggressive skin cancer and often appears in the elderly population. More than one half of all MCCs occur on the head and neck. MCC has a high propensity for local recurrence, as well as regional and distant metastases. One third to one half of patients with MCC eventually die from the disease.

See the following image depicting Merkel cell carcinoma.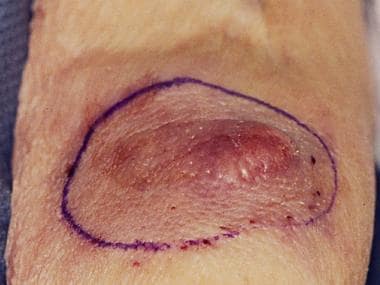 Large, violaceous nodule of a Merkel cell carcinoma on the antecubital fossa (photo courtesy of Dr Jonathan Cook).
Toker first described MCC more than 3 decades ago. Since then, it has been referred to as cutaneous neuroendocrine carcinoma, small cell tumor of the skin, primary undifferentiated carcinoma of the skin, anaplastic carcinoma of the skin, murky cell carcinoma, neuroendocrine tumor of the skin, or cutaneous APUDoma (a tumor composed of cells with amine precursor uptake and decarboxylation [APUD] cytochemical properties). The cell of origin is still a topic of debate, though most agree that MCC is of neuroendocrine origin.
Literature over the last several years has uncovered a strong association between MCC and a newly found polyomavirus (now named the Merkel cell polyomavirus, abbreviated MCV or MCPyV).
For excellent patient education resources, visit eMedicineHealth's Cancer Center. Also, see eMedicineHealth's patient education articles Skin Cancer and Skin Biopsy.