Practice Essentials
Facial soft-tissue injuries are not uncommon in athletics.
The position and anatomy of the face make it particularly vulnerable to trauma. In addition, few sports mandate the use of protective equipment, leaving the face susceptible to injury.
Although most such injuries are minor in nature, they should be evaluated promptly with a focused history and thorough examination (see the image below). In addition, facial injuries should be treated early to reduce the likelihood of possible adverse outcomes (ie, infection, loss of function, poor cosmesis). In this article, common sports-related soft-tissue facial injuries are discussed, with an emphasis on the initial evaluation, diagnosis, and treatment.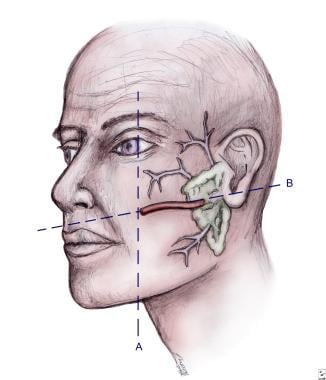 Location of the parotid gland and duct system.
Signs and symptoms
The face is extremely vascular, and even minor injuries may result in profuse bleeding. Note the location, size, shape, and depth of any lacerations, and explore wounds for foreign bodies. Palpate for areas of crepitus or bony step-off. Gross asymmetry may signify underlying nerve damage. Assess neurologic function by evaluating sensation and motor function.
See Presentation for more detail.
Diagnosis
Facial injuries in which there is significant bony tenderness or obvious deformity warrant imaging to evaluate for fractures. Start with plain films of the face; panoramic x-ray images may also be of benefit. If the clinical suspicion is high or plain films are inconclusive, computed tomography scans can be useful.
See Workup for more detail.
Management
A systematic approach to facial laceration repair ensures the best chance at an optimum outcome. One methodological approach includes the following:
Wound assessment
Anesthesia
Wound cleaning and irrigation
Repair
Follow-up
See Treatment and Medication for more detail.