Overview
Soft tissue volume replacement with injectable materials has been a challenging problem for facial plastic and reconstructive surgeons. The quest for a safe, long-lasting, and predictable material still continues today.
Early investigators used materials based on availability and ease of application. Paraffin wax, petrolatum, vegetable oils, lanolin, silicone oil, and beeswax have been used for facial augmentation, but long-term follow-up revealed problems (eg, foreign body granulomas).
Although autogenous fat transplants have been used for decades, the field of minimally invasive soft tissue augmentation expanded with the introduction of injectable bovine collagen in 1981.
Zyderm and Zyplast (Collagen Corp, Palo Alto, CA) have been used with excellent safety records and are currently the criterion standard against which all new materials are judged. The major drawback of these materials is rapid absorption, with essentially no histological evidence of Zyplast by 6 months and Zyderm by 3 months.
The ideal material for soft tissue replacement/augmentation has not yet been identified, whether injectable or surgically implanted; permanent or temporary; biological or synthetic; allograft, homograft, or xenograft. Therefore, materials must be judged on relative merits and disadvantages. This article reviews injectable soft tissue fillers.
The images below depict soft tissue implants.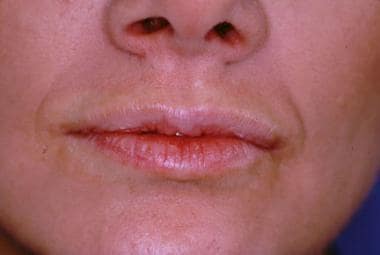 Patient prior to bovine collagen injection for lip augmentation.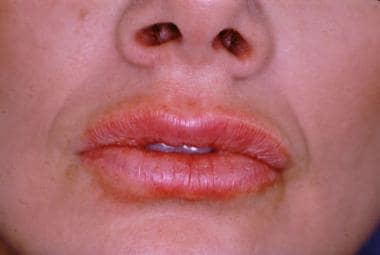 Patient immediately following bovine collagen injection (1 cc) for lip augmentation