Background
Difficulty breathing through the nose after rhinoplasty is a serious problem. Patient dissatisfaction can be significant, even when cosmetic results are excellent. Long-term impacts on the quality of life and contributions to the pathophysiology of sleep-related breathing disorders have both been documented. This article focuses on the etiology, diagnosis, and treatment of postrhinoplasty nasal obstruction, with particular attention to the nasal valve area.
An image depicting internal nasal valve anatomy can be seen below.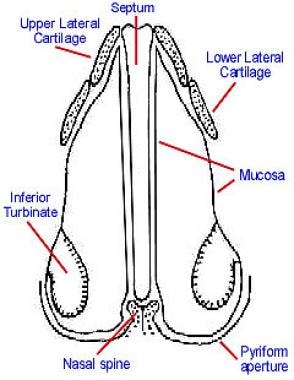 Rhinoplasty, postrhinoplasty nasal obstruction. Normal internal nasal valve anatomy. Notice the relationship between the septum, upper lateral cartilage, pyriform aperture, and inferior turbinate.