Background
Distinctive anatomic differences exist between the nonwhite nose (platyrrhine, mesorrhine) and the white nose (leptorrhine). Surgeons who perform rhinoplasty in multiracial patients must recognize these differences and must implement specific surgical strategies to achieve the desired aesthetic and functional outcome.
An image depicting rhinoplasty on a nonwhite nose can be seen below.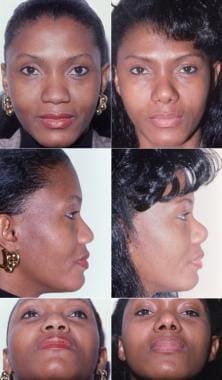 Preoperative (left) and postoperative (right) views of the African American multiracial nose. Rhinoplasty was performed as described in this article.