Overview
Congenital anomalies of the esophagus comprise a diverse group of malformations. This chapter discusses embryology of the developing esophagus and esophageal anomalies secondary to its aberrant development.
The chapter also reviews major esophageal malformations as follows:
Esophageal atresia and tracheoesophageal fistula
Laryngotracheoesophageal cleft
Esophageal stenosis and webs
Foregut duplications
Congenital bronchopulmonary foregut malformations
Diverticulum of esophagus
Congenital short esophagus
An image depicting common types of esophageal atresia and/or tracheoesophageal fistula can be seen below.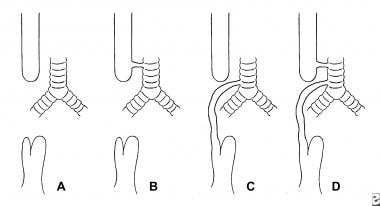 Common types of esophageal atresia and/or tracheoesophageal (TE) fistula include (A) pure atresia of the esophagus, (B) esophageal atresia with proximal TE fistula, (C) esophageal atresia with distal TE fistula, (D) esophageal atresia with double fistula, and (E) H-type fistula.