History of the Procedure
The cricopharyngeus muscle, also known as the upper esophageal sphincter (UES), was first described by Valsalva in 1717. Over time, an association between dysfunction of the cricopharyngeus and pharyngeal diverticula was identified.
In 1946, Lahey proposed dilatation of the cricopharyngeus for the treatment of pharyngeal diverticula, which greatly added to physicians' understanding of upper esophageal dysphagia disorders.
In 1950, Asherson proposed the term cricopharyngeal achalasia to denote a persistent spasm of the UES that causes symptoms of dysphagia. Several subsequent authors have proposed cricopharyngeal myotomy for the management of upper esophageal and pharyngeal dysphagia in the setting of polio, degenerative neurologic disorders, and strokes and after head and neck surgery.
See the image below.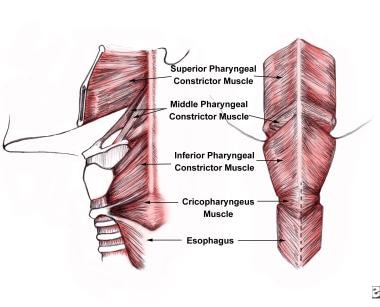 Anatomic location of the cricopharyngeus muscle.