Overview
The eyelids act to protect the anterior surface of the globe from local injury. Additionally, they aid in regulation of light reaching the eye; in tear film maintenance, by distributing the protective and optically important tear film over the cornea during blinking; and in tear flow, by their pumping action on the conjunctival sac and lacrimal sac.
Structures that must be considered in a description of lid anatomy are the skin and subcutaneous tissue; the orbicularis oculi muscle (shown below); the submuscular areolar tissue; the fibrous layer, consisting of the tarsi and the orbital septum; the lid retractors of the upper and lower eyelids; the retroseptal fat pads; and the conjunctiva.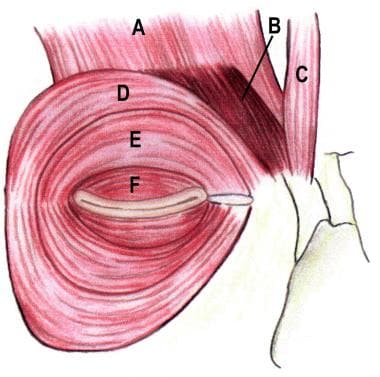 Orbicularis oculi muscle anatomy. (A) Frontalis, (B) corrugator superciliaris, (C) procerus, (D) orbital orbicularis, (E) preseptal orbicularis, (F) pretarsal orbicularis.
The anatomy of the lid is best approached initially by reviewing a sagittal cross section of the eyelid. The exact number of tissue layers and the relationship between the many layers are modified significantly by the level of the lid examined. The orbital septum represents the anatomic boundary between the lid tissue and the orbital tissue, but an assessment of eyelid function and preparation for lid surgery requires knowledge of these postseptal structures. The upper and lower lids may be considered analogous structures, with differences mainly in the lid retractor arrangement.

In eyelid reconstruction, it is more practical to consider the repair of the anterior and posterior lamellae, with the anterior lamella being the skin and orbicularis, and the posterior lamella being the tarsus and conjunctiva.
For patient education information, see the Eye and Vision Center, as well as Anatomy of the Eye.