Background
Maxillofacial fractures are the result of blunt or penetrating trauma. Most are blunt injuries caused by vehicular crashes, altercations, sporting-related trauma, occupational injuries, and falls. Penetrating injuries are mainly the result of gunshot wounds, stabbings, and explosions.

Shape and velocity of the striking object are the main factors that determine the type of maxillofacial injury (ie, soft tissue alone vs bony).
Mandibular fractures usually occur in 2 or more locations because of the bone's U shape and articulations at the temporomandibular joints. Fractures also may occur at a site apart from the site of direct trauma. A large percentage of mandibular fractures are open, as they often fracture between teeth and communicate with the oral cavity.
Fractures of the mandible are often associated with other craniofacial, cervical, and systemic injuries and may destabilize the airway. Therefore, the approach to emergency treatment must be to secure the airway and provide hemostasis prior to fracture management.

Indications of the presence of mandibular fracture include the following
:
Pain
Bite abnormality
Numbness
Bleeding
Swelling
Dyspnea
Crepitus
Restricted function
See the image below.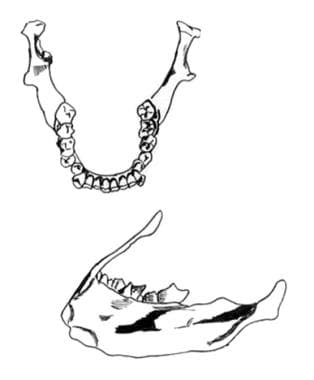 Anatomy of the mandible.