Practice Essentials
Bioprosthetic valves (see the image below) used in heart valve replacement generally offer functional properties (eg, hemodynamics, resistance to thrombosis) that are more similar to those of native valves. Implantation of prosthetic cardiac valves to treat hemodynamically significant aortic or mitral valve disease has become increasingly common.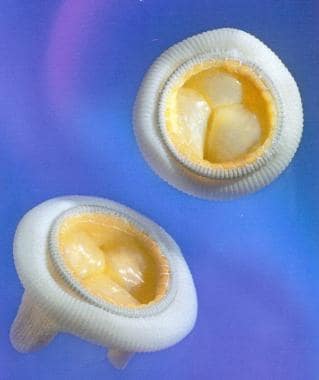 The Hancock M.O. II aortic bioprosthesis (porcine). Reproduced with permission from Medtronic, Inc.
Replacement of diseased valves with prosthetic heart valves reduces the morbidity and mortality associated with native valvular disease, but it comes at the expense of risking complications related to the implanted prosthetic device. Emergency medicine physicians must be able to rapidly identify patients at risk and begin appropriate diagnostic testing, stabilization, and treatment. Even when promptly recognized and treated, acute prosthetic valve failure is associated with a high mortality rate.
Essential update: Study finds equivalent patient survival rates for bioprosthetic and mechanical aortic valves
In a retrospective cohort analysis of 4253 patients who underwent primary isolated aortic-valve replacement, 15-year survival and stroke rates were equivalent with bioprosthetic and mechanical valves. For bioprosthetic valves, the risk of repeat surgery was greater but the incidence of major bleeding was lower.

In propensity-matched comparisons, actuarial 15-year mortality rates were 60.6% with the bioprosthetic aortic valve and 62.1% with the mechanical valve. Cumulative 15-year stroke rates were 7.7% and 8.6% in the two groups, respectively. The reoperation rate was 12.1% in the bioprosthetic valve group at 15 years and 6.9% in the mechanical valve group, while major bleeding occurred in 6.6% of bioprosthesis patients and in 13.0% of the mechanical-valve group.
Signs and symptoms
Signs and symptoms of prosthetic heart valve malfunction depend on the type of valve, its location, and the nature of the complication. Presentations may include the following:
Acute prosthetic valve failure: Sudden onset of dyspnea, syncope, or precordial pain
Acute aortic valve failure: Sudden death; survivors have acute severe dyspnea, sometimes accompanied by precordial pain, or syncope
Subacute valvular failure: Symptoms of gradually worsening congestive heart failure; they also may present with unstable angina or, at times, may be entirely asymptomatic
Embolic complications: Symptoms related to the site of embolization (eg, stroke, myocardial infarction [MI], sudden death, or symptoms of visceral or peripheral embolization)
Anticoagulant-related hemorrhage: Symptoms related to the site of hemorrhage
A history of fever should raise the possibility of prosthetic valve endocarditis (PVE).
On physical examination, normal prosthetic heart valve sounds include the following:
Mechanical valves: Loud, high-frequency, metallic closing sound; soft opening sound (tilting disc and bileaflet valves); low-frequency opening and closing sounds of nearly equal intensity (caged ball valves)
Tissue valves: Closing similar to those of native valves, low-frequency early opening sound in the mitral position
Prosthetic heart valve murmurs noted include the following:
Aortic prosthetic valves: Some degree of outflow obstruction with a resultant systolic ejection murmur (loudest in caged ball and small porcine valves); low-intensity diastolic murmur (tilting disc and bileaflet valves)
Mitral prosthetic valves: Low-grade systolic murmur (caged ball valves); short diastolic murmur (bioprostheses and, occasionally, St. Jude bileaflet valves)
Additional findings may include the following:
Acute valvular failure: Evidence of poor tissue perfusion; hyperdynamic precordium and right ventricular impulse (50% of cases); absence of a normal valve closure sound or presence of an abnormal regurgitant murmur
Subacute valvular failure: Rales and jugular venous distention; signs of right-side failure; a new regurgitant murmur or absence of normal closing sounds; a new or worsening hemolytic anemia (may be the only presenting abnormality)
PVE (often obscure): Fever (97% of cases); a new or changing murmur (56% of cases); classic signs of native valve endocarditis; splenomegaly; congestive heart failure, septic shock, or primary valvular failure; systemic emboli
See Clinical Presentation for more detail.
Diagnosis
Laboratory studies that may be useful include the following:
Complete blood count
Blood urea nitrogen (BUN) and creatinine levels
Urinalysis
Blood culture
Prothrombin time (PT) or international normalized ratio (INR)
Imaging studies that may be helpful include the following:
Chest radiography: This can help in delineating the valvular morphology and determining whether the valve and occluder are intact; each of the most commonly used valve types has its own characteristic radiographic appearance
Echocardiography (2-dimensional, Doppler, transesophageal [the study of choice for a suspected prosthetic valve complication], transthoracic)
Cinefluorography: This may detect impaired occluder movement but often cannot readily determine the etiology
Computed tomography: A consensus statement from the Society of Cardiovascular Computed Tomography (SCCT) states that CT should be performed as part of the evaluation of all patients being considered for transcatheter aortic valve implantation (TAVI)/transcatheter aortic valve replacement (TAVR), except those in whom CT is contraindicated,
and that the CT images should be interpreted with a member of the TAVI/TAVR team or reviewed with the operator before the procedure
See Workup for more detail.
Management
In patients with acute valvular failure, diagnostic studies must be performed simultaneously with resuscitative efforts.
Treatment approaches to primary valve failure include the following:
Emergency valve replacement
Concomitant adjunctive therapy
Afterload reduction and inotropic support
In selected cases, intra-aortic balloon counterpulsation
Treatment approaches to PVE include the following:
Intravenous antibiotics administered as soon as 2 sets of blood cultures are drawn
Cessation of warfarin until central nervous system involvement is ruled out and invasive procedures are determined to be unnecessary

Consideration of anticoagulation
Consideration of emergency surgery in patients with moderate to severe heart failure or with an unstable prosthesis noted on echocardiography or fluoroscopy
Treatment approaches to thromboembolic complications include the following:
Anticoagulation (if it has not already been initiated or if the patient has a subtherapeutic INR)
Assessment of valve function
Note: US dabigatran prescribing information now includes a contraindication in patients with mechanical prosthetic valves

Treatment approaches to prosthetic valve thrombosis include the following:
Surgery (historically the mainstay of treatment but associated with a high mortality)
Thrombolytic therapy (appropriate for selected patients with thrombosed prosthetic valves): Should always be performed in conjunction with cardiovascular surgical consultation
In cases of major anticoagulant-related hemorrhage, reversal of anticoagulation
See Treatment and Medication for more detail.