Background
In 1724, Dr Hermann Boerhaave described the first, and likely most well known, case of esophageal perforation. Baron Jan von Wassenaer, the Grand Admiral of Holland, followed a large meal with his customary bout of emetic-induced vomiting. However, on this occasion, the Admiral experienced a sudden and severe pain in his upper abdomen after violent but minimally productive retching. Dead less than 24 hours later, his autopsy revealed a transverse tear of his distal esophagus and gastric contents in the pleural spaces. Spontaneous esophageal rupture is a rare and dangerous entity, which today is commonly known as Boerhaave syndrome.
Today, most instances of esophageal perforation are iatrogenic, but this remains a potentially devastating condition. Rapid diagnosis and therapy provide the best chance for survival; however, delay in diagnosis is common, resulting in substantial morbidity and mortality. This article discusses the causes, investigation, and initial therapy for this potentially lethal GI condition. See the image below.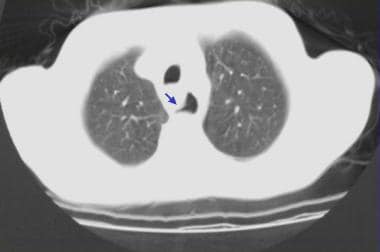 Nonenhanced CT scan through the mid esophagus in a patient with esophageal perforation after upper GI endoscopy shows a false tract emanating from the esophagus (arrow).