Background
The redback spider (Latrodectus hasselti) belongs to the family Theridiidae, the comb-footed spiders. Its genus Latrodectus also includes black widows, whose name may be more familiar to North American readers. The redback spider can be found throughout Australia, although it is more commonly seen in the temperate regions than in the colder, southern areas. The spider exists in higher numbers in Australia's urban and suburban areas and is virtually absent in the continent's forests. Outside of Australia, similar species of Latrodectus include Karakurt in Central Asia, Malmignatte in Europe, the Koppie spider in South Africa, and the Night Stinger in New Zealand.
The redback spider bite is the most common envenomation treated with antivenom in Australia. The female redback spider is responsible for most envenomations. She is usually 10 mm in length and has a small cephalothorax and a large, globular abdomen that bears a red, orange, or brown stripe. The male redback spider is considerably smaller than the female and is only occasionally able to cause mild envenomation.
See the images below.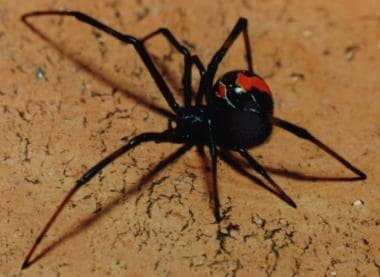 Female redback spider showing a distinctive red stripe over the abdomen. Image courtesy of John Paterson.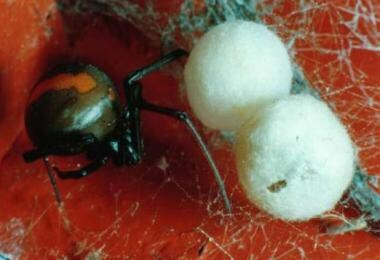 Female redback spider with egg sacs. Image courtesy of John Paterson.
See Venomous Spider Bites: Keys to Diagnosis and Treatment, a Critical Images slideshow, for help identifying and treating various envenomations.