Practice Essentials
Bladder cancer is a common urologic cancer that has the highest recurrence rate of any malignancy. The most common type is urothelial carcinoma (UC). Other types include squamous cell carcinoma (see the image below) and adenocarcinomas.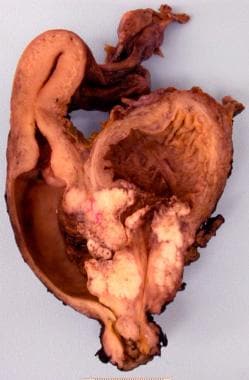 Bladder cancer. Cross-section through the bladder, uterus, and vagina with squamous cell carcinoma of the bladder infiltrating through the bladder wall into the vaginal wall.
Signs and symptoms
Clinical manifestations of bladder cancer are as follows:
Painless gross hematuria – Approximately 80-90% of patients; classic presentation
Irritative bladder symptoms (eg, dysuria, urgency, frequency of urination) – 20-30% of patients
Pelvic or bony pain, lower-extremity edema, or flank pain – In patients with advanced disease
Palpable mass on physical examination – Rare in superficial bladder cancer
See Presentation for more detail.
Diagnosis
Urine studies include the following:
Urinalysis with microscopy
Urine culture to rule out infection, if suspected
Voided urinary cytology
Urinary tumor marker testing
Urinary cytology:
Standard noninvasive diagnostic method
Low sensitivity for low-grade and early stage cancers
Fluorescence in situ hybridization (FISH) may improve the accuracy of cytology
Cystoscopy:
The primary modality for the diagnosis of bladder carcinoma
Permits biopsy and resection of papillary tumors
Upper urinary tract imaging:
Usually necessary for the hematuria workup, but may be omitted on the basis of risk stratification
American Urologic Association Best Practice Policy recommends computed tomography (CT) scanning of the abdomen and pelvis with contrast, with preinfusion and postinfusion phases
Imaging is ideally performed with CT urography, using multidetector CT
Ultrasonography is commonly used, but it may miss urothelial tumors of the upper tract and small stones
The diagnostic strategy for patients with negative cystoscopy is as follows:
Negative urine cytology and FISH – Routine follow-up
Negative urine cytology, positive FISH – Increased frequency of surveillance
Positive urine cytology, positive or negative FISH – Cancer until proven otherwise
No blood tests are specific for bladder cancer, but a general evaluation is necessary prior to initiating therapy with intravesical bacillus Calmette-Guérin (BCG). Laboratory tests include the following:
Complete blood count (CBC)
Liver function tests
Bony fraction of alkaline phosphatase assay (if bone metastasis suspected)
Kidney function studies
See Workup for more detail.
Management
The treatment of non–muscle-invasive bladder cancer (Ta, T1, carcinoma in situ [CIS]) begins with transurethral resection of bladder tumor (TURBT). Subsequent treatment is as follows:
Small-volume, low-grade Ta bladder cancer – An immediate single, postoperative dose of intravesical chemotherapy
Intermediate-risk bladder cancer (recurrent low grade, high volume low grade, high-grade Ta) – Intravesical chemotherapy or BCG
High-risk Ta, T1, and CIS urothelial carcinoma – Intravesical BCG
Persistent or recurrent high-risk disease – Repeat resection prior to additional intravesical therapy; consider cystectomy for high-risk disease
The treatment of muscle-invasive bladder cancer is as follows:
Radical cystoprostatectomy in men
Radical cystectomy with anterior pelvic exenteration in women
Bilateral pelvic lymphadenectomy (PLND), standard or extended
Creation of a urinary diversion (eg, ileal conduit, Indiana pouch, orthotopic bladder substitution)
Neoadjuvant chemotherapy – May improve cancer-specific survival
Alternatively, a bladder-sparing approach of TURBT followed by concurrent radiation therapy and systemic chemotherapy (trimodality therapy) may be used.
Chemotherapeutic regimens for metastatic bladder cancer include the following:
Methotrexate, vinblastine, doxorubicin (Adriamycin), and cisplatin (MVAC)
Gemcitabine and cisplatin (GC)
Inhibitors of programmed cell death 1 (PD-1) protein and its ligands PD-L1 and PD-L2, are first-line agents in patients with metastatic urothelial carcinoma who are not candidates for cisplatin chemotherapy, and second-line agents for those with disease progression despite cisplatin-based chemotherapy. Agents in this category include the following
:
Atezolizumab
Nivolumab
Avelumab
Pembrolizumab
Erdafitinib, a fibroblast growth factor receptor inhibitor, is approved for locally advanced or metastatic urothelial carcinoma that has FGFR2 or FGFR3 genetic alterations and has progressed during or following at least 1 line of prior platinum-containing chemotherapy.
See Treatment and Medication for more detail.
See Bladder Cancer Treatment Protocols for more information on this topic. Go to Oncology Decision Point for expert commentary on bladder cancer treatment decisions and related guidelines.
For patient education information, see Bladder Cancer.