Overview
Outcomes for burn patients have improved dramatically over the past 20 years, yet burns still cause substantial morbidity and mortality.
Proper evaluation and management, coupled with appropriate early referral to a specialist, greatly help in minimizing suffering and optimizing results.

Burn injury is a common cause of morbidity and mortality.
In the United States, approximately 1.25 million people with burns present to the emergency department each year.
Among these, 63,000 have minor burn injuries that are treated primarily in the emergency department and an additional 6000 sustain major burn injuries that require hospital admission.
(See the image below.)
For excellent patient education resources, visit eMedicineHealth's First Aid and Injuries Center. Also, see eMedicineHealth's patient education article Thermal (Heat or Fire) Burns.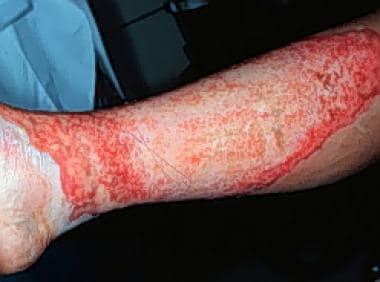 Initial evaluation and management of the burn patient. Second-degree burns are often red, wet, and very painful. Their depth, ability to heal, and tendency to result in hypertrophic scar formation vary enormously.