Overview
The initial evaluation of a person who is injured critically from multiple trauma is a challenging task, and every minute can make the difference between life and death.
Over the past 50 years, assessment of trauma patients has evolved because of an improved understanding of the distribution of mortality and the mechanisms that contribute to morbidity and mortality in trauma.
Mortality can be grouped into immediate, early, and late deaths. Immediate deaths are caused by a fatal injury of the great vessels, heart, or neurologic system.
Immediate mortality occurs at the scene of injury, as shown in the image below.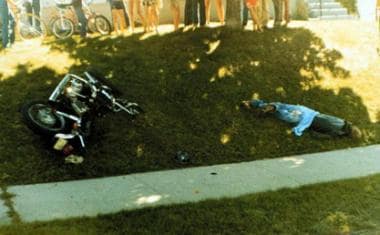 Immediate mortality in trauma occurs at the scene of the injury. Prevention of these deaths requires a multidisciplinary public health systems approach. Courtesy of Kevin Kilgore, MD; Carson Harris, MD; and David Hale, MD, Regions Hospital, St Paul, Minn.
Early deaths may occur minutes to hours after the injury. Injured patients frequently arrive at a hospital before death which usually occurs because of hemorrhage and cardiovascular collapse. Late trauma mortality peaks from days to weeks after injury and is primarily due to sepsis and multiple organ failure. Organized systems of trauma care are focused on the salvage of a patient from early trauma mortality; whereas, critical care is designed to avert later trauma mortality.
The location of injury is an important predictor of outcome. A study by Newgard, et al. evaluated 53,487 EMS transported trauma patients and found that only 29.4% of critically injured rural patients were initially transported to major trauma centers versus 88.7% of urban patients. This study found that 89.6% of rural deaths took place within 24 hours of injury compared to 64% of urban deaths which occurred within 24 hours of injury.

Early deaths result from failed oxygenation of vital organs, massive central nervous system injury, or both. Mechanisms of failed tissue oxygenation include inadequate ventilation, impaired oxygenation, circulatory collapse, and insufficient end organ perfusion. Massive central nervous system trauma leads to inadequate ventilation and/or disruption of brain stem respiratory centers. Injuries that cause early trauma mortality occur in predictable patterns based on mechanism of injury; the patient's age, gender, and body habitus; or environmental conditions.
Recognition of these patterns led to the development of the Advanced Trauma Life Support (ATLS) approach by the American College of Surgeons.
ATLS is the standard of care for trauma patients, and it is built around a consistent approach to patient evaluation. This protocol ensures that the most immediate life-threatening conditions are quickly identified and addressed in the order of their risk potential.
The objectives of the initial evaluation of the trauma patient are as follows: (1) to rapidly identify life-threatening injuries, (2) to initiate adequate supportive therapy, and (3) to efficiently organize either definitive therapy or transfer to a facility that provides definitive therapy.