Background
Severe blunt injury to the chest continues to be one of the leading causes of morbidity and mortality in both young and old trauma victims.
Flail chest is one of the worst subset of these injuries and is likely the most common serious injury to the thorax seen by clinicians.
See the image below.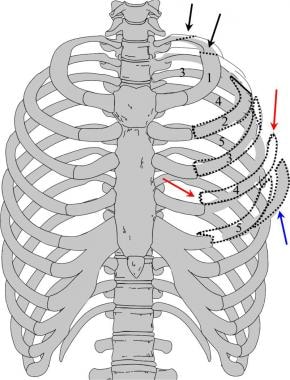 Image depicting multiple fractures of the left upper chest wall. The first rib is often fractured posteriorly (black arrows). If multiple rib fractures occur along the midlateral (red arrows) or anterior chest wall (blue arrows), a flail chest (dotted black lines) may result.
Multiple care patterns and treatment modalities have emerged, many based on anecdotal clinical observation and evidence. Within the last 20 years, more rigorous scientific methods have been applied to the problem of flail chest, in both the clinical setting and laboratory. More advanced radiologic work-up with multislice computed tomography (MSCT) scanners is increasing the frequency of diagnosis of this problem. This article reviews the most salient data of the recent literature and discusses some of the diagnostic and treatment options that are now available in the treatment of flail chest.